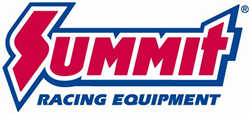 Tallmadge, OH (PRWEB) March 19, 2015
Blueprint Engines has established itself as a go-to source for builders looking for reliable horsepower. Summit Racing offers BluePrint Engines' fully-dressed crate engines, bare blocks, and cylinder heads.
Crate Engines
Each BluePrint crate engine is thoroughly balanced and rigorously dyno tested to ensure accurate performance results and reliability. Most of BluePrint's crate engines can be had either in base trim or fully dressed, which includes an intake manifold, carburetor (or EFI on certain models), and a distributor. Each engine is shipped with a printout of its dyno test results. Summit Racing offers Chevy, GM LS, Ford, and Chrysler small block crate engines in a variety of horsepower ratings. BluePrint Engines also provides a 30 month/50,000 mile warranty on its complete automobile engines.
Muscle Series Aluminum Cylinder Heads
BluePrint's Muscle Series heads are designed to deliver exceptional performance without a large price tag. The heads feature heavy-duty components that ensure valvetrain stability. The heads are sold either fully assembled or as a bare castings, and each one carries a 12 month limited warranty. Available for small block Chevy, big block Chevy, and small block Ford.
Short Block Assemblies
These are the same short blocks BluePrint uses as the base for its high performance crate engines. Each one includes the engine block and rotating assembly. Each shortblock starts out as a seasoned handpicked core. The block's cylinder walls are sonically tested and each rod and crank is magnafluxed to spot imperfections. Then, each block endures a precision machining process to ensure it meets BluePrint's rigid specifications.
Blueprint short block assemblies are available for Chevy, GM LS, Chrysler, and Ford. Each short block carries a 12 month limited warranty.
Summit Racing Equipment
http://www.SummitRacing.com
1-800-230-3030