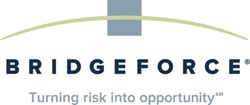 Chadds Ford, PA (PRWEB) March 10, 2015
Alternative lenders, while making up a small but fast-growing portion of all loans, are rapidly gaining the attention of prospective borrowers, traditional lenders, investors and technology companies and changing the landscape of the lending industry.
The Capital Markets Practice of Bridgeforce Inc., a multi-national, specialized consulting firm, is publishing the first part of a multi-part series on the Alternative Lending market. The introductory paper, entitled "Technology-Enabled Alternative Lending" gives an overview of the market, defining three distinct groups of lenders, their objectives, business models and opportunities. Future papers will explore specific aspects such as valuation, technology and compliance.
With the help of technology, new entrants are finding promising and potentially significant profitable opportunities to cater to underserved markets and previously restricted borrowers, as well as competing with traditional lenders for some consumer and small business loans.
"Innovations by alternative lenders are providing new benefits in terms of speed, convenience, costs and transparency giving borrowers a credible alternative," says John Sanders, Head of the Bridgeforce Capital Markets Practice. "Our work with emerging marketplace firms, traditional banking models, technology solution providers, and investors gives us a unique under-the-hood view of this sector, and this series is geared towards understanding and making sense of the advances in this space."
To learn more about the Bridgeforce Special Report Series, please contact John Sanders, jsanders@bridgeforce.com, +1 302.438.1382.
For more information about Bridgeforce Inc., go to http://www.bridgeforce.com.
About Bridgeforce
Bridgeforce is a specialized multi-national consulting firm serving a variety of clients involved in almost all aspects of the consumer and small business lending and payments space. Over 75 percent of Bridgeforce consultants come directly from client-side leadership positions across multiple parts of the credit lifecycle. Combined with subject matter expertise in operations, technology, strategy and regulatory issues, Bridgeforce has the knowledge and experience to make the hard choices in developing and implementing best-fit solutions that are both achievable and lower the risks of execution to ensure sustainability. Bridgeforce success can be attributed to a culture fostering innovation and evolving experienced-based best practices recognized within the industry. For more information, visit http://www.bridgeforce.com.