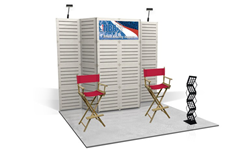 This year Displays & Exhibits is promoting a free shipping giveaway on their slatwall merchandising display purchases for National Hardware exhibitors.
Tustin, CA (PRWEB) March 11, 2015
Numbers for the National Hardware Show 2014 included 18,000+ attendees visiting more than 2,600 exhibitors at North America's largest home improvement and DIY industry gathering and B2B shopping spree. All the major players in the hardware industry come to make contacts, introduce and find new products and grow their business.
This year Displays & Exhibits is promoting complementary shipping giveaway on their slatwall merchandising display purchases for National Hardware exhibitors. Lightweight slatwall systems are compact merchandising displays that place the product front and center in trade show exhibition spaces, very similar to the way convenience stores market their products. Connectible and customizable slatwall paneling allows your brand to hang or shelve products right in the booth space for an all-inclusive shopping experience. Slatwall is perfect for packaged products.
National Hardware exhibitors can save time and money with Displays and Exhibits slatwall display delivery promotion, and will keep on garnering the benefits of these portable display setups each time they're rebuilt for additional tradeshows. The easily adjoined slatted panels create a perfect exhibit space that packs into small squares for handy transport and storage. Providing your brand with high-quality materials for a true showroom-style setting, the slatwall display promotion is a smart buy to ensure a standout booth amongst one of the busiest tradeshow floors this spring at the Las Vegas Convention Center.
Working together with exhibitors from small to large organizations across the country, Displays and Exhibits provides top quality trade show booth displays that deliver results on the showroom floor. Displays and Exhibits has designed a full range of additional marketing materials and accessories. Including pop up displays, hanging signs, iPad kiosks, table top displays and more. For more information on this promotion for National Hardware exhibitors, call (888) 282-8858 or visit our site to take advantage of the slatwall promotion for the National Hardware Show.
About Displays and Exhibits
Displays and Exhibits is a division of Absolute Exhibits. Established in 2000, Absolute Exhibits began as a portable/modular distributor, and now rents large custom exhibits at over 300 shows in the USA and in countries around the world.
Displays and Exhibits was formed to serve the needs of first-time exhibitors and seasoned exhibitors that go to local and international trade shows across the globe. They also work with clients that do community work, in-house events, fairs, and festivals. The company offers portable banner stands, display boards, digital kiosks, display lights, display signage, and exhibit furniture.