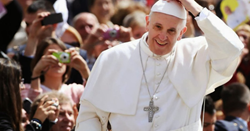 The Christian community has the highest obesity rate of any community in America, and Pope Francis serves as a great example of living a healthy life.
Houston, Texas (PRWEB) March 12, 2015
After many months of research, nonprofit organization Health Fitness Revolution (HFR) has compiled several lists of the fittest individuals and institutions of the spiritual sector of society. Taking the top spot on the list as the world's fittest spiritual leader is Pope Francis. These lists are the first of its kind, and HFR remains the first and only organization to rank spiritual leaders and institutions according to their devotion to health and fitness.
"We are proud to name Pope Francis as the fittest spiritual leader, and he has earned it because he remains physically, mentally and socially active, all of which are essential to maintaining a healthy lifestyle," said Samir Becic, founder of Health Fitness Revolution and director for the Health and Fitness Program at Joel Osteen's Lakewood Church, the largest church in the United States. "In addition, the spiritual impact Pope Francis has made on the world in such a short period of time has not been seen in recent history.The Christian community has the highest obesity rate of any community in America, and Pope Francis serves as a great example of living a healthy life."
Other lists compiled by HFR rank the fittest churches, religious leaders and pastors, both male and female, including Pastors Joel Osteen, Rick Warren, Joyce Meyer, and many others.
Among the lists compiled by Health Fitness Revolution ranking the fittest spiritual institutions and leaders are:
Pope Francis: The Fittest Spiritual Leader in the World
Top 10 Fittest Christian Leaders in America
Top 10 Fittest Religious Leaders in the United States
Top Fittest Female Pastors in America
Top 20 Fittest Churches in America
Top 20 Fittest Churches in Texas
Top 50 Fittest Mega Churches in America 2015
About Health Fitness Revolution
Health Fitness Revolution, a movement spearheaded by the Samir Becic Foundation, is a not-for-profit organization dedicated to making America a healthier nation. Health Fitness Revolution aims to change the way people think about health and fitness, incorporating proper exercise and nutrition practices into the very fabric of family and society. By properly educating the public and giving them the tools they need to live a healthy lifestyle, 60-70 percent of illnesses can be controlled or avoided, including obesity. Through a variety of channels in the community like schools, churches, community centers and corporations, Health Fitness Revolution hosts events and workshops to educate children and their parents about the fundamentals of physical fitness and nutrition. For more information, visit HealthFitnessRevolution.com and HealthFitnessRevolution.org.
About Samir Becic
Before Samir Becic became an internationally recognized fitness expert, earning a spot in Men's Journal's "Top Fitness Trainers in America" list, he began his life-long dedication to health and fitness in Europe as a distinguished Martial Arts expert. After relocating to the United States, he began his career as a fitness trainer, serving as the Fitness Director for Bally Total Fitness, the largest fitness facility in America. While at Bally's, Becic earned countless awards and recognition for his training techniques and passion for fitness:

"No. 1 Fitness Trainer in the World" - 4 times
"No. 1 Fitness Trainer in Texas" - 22 times
"No. 1 Fitness Trainer in Houston" - 29 times
"Best of the Best Fitness Trainer" - 2 times
"Best Fitness Director" - 2 times
All awards from Bally Total Fitness 2000-2004
Becic is the founder and director of the Health and Fitness Total Life Challenge at Lakewood Church, the largest mega-church in America. He is also an advisor to the Lutheran Church of Texas (123 churches), a fitness expert on 89.3 KSBJ, the largest Christian radio station in Texas, a fitness expert for Verizon Wireless, and a contributing writer for FOCUS.de, one of the largest magazines in Europe.