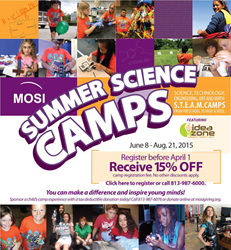 Tampa, Florida (PRWEB) March 10, 2015
Registration for the Museum of Science & Industry's 2015 Summer Science Camps is now open. MOSI's Summer Science Camps begin Monday, June 8, and registration is available at MOSI.org. Register before April 1 and receive 15 percent off camp registration fees.
MOSI's Summer Science Camp brings science, technology, engineering, art and math (S.T.E.A.M.) alive through hands-on experiments and building projects. From building robots and launching rockets to making movies and snorkeling in natural springs, MOSI is all about creating the experiences that expand interests and make dreams a reality. Doing real science with the tools and technology used by professionals is just one of the ways MOSI Summer Science Camp inspires campers with a "can do" attitude that can last a lifetime. Real science coupled with exciting experiments, simulations, explorations and inventions will help campers discover the innovator within.
Designing video games, creating art with lasers, searching for fossils, using DNA to solve crimes and mixing up edible slime are just some of the thousands of Summer Science Camp experiences waiting for you.
For teens, MOSI's S.T.E.A.M. Career Camps provide students the opportunity to explore careers that utilize S.T.E.A.M. skills through active, project-based experiences with the support of field experts and scientists. Through real-world experiences in a fun, thought-provoking environment, students will make discoveries about S.T.E.A.M. careers in addition to discoveries about their own interests. Attendees receive a S.T.E.A.M. Certificate of Achievement for successful completion of each of these camps.
Summer camp sessions are available to children in preschool through high school. Multiple week and multiple child discounts are available. Extended care and hot lunches are offered for an additional fee. For more information, class descriptions and prices, visit http://www.mosi.org.
# # #
About MOSI (Museum of Science & Industry)
MOSI is a not-for-profit, community-based institution and educational resource dedicated to advancing public interest, knowledge, and understanding of science, technology, engineering, art and math (S.T.E.A.M.) and is home to the Florida Hospital IMAX® DOME Theatre, the only IMAX dome theater in the state of Florida. MOSI's core ideology is to make a difference in people's lives by making science real for people of all ages and backgrounds. MOSI gives away more than $3 million in free memberships each year, $250,000 in free tickets annually and approximately 400 scholarships each year for children to attend MOSI Summer Science Camps. Additionally, MOSI's education staff works closely with area teachers offering free training and support for area science educators. With a total size of more than 400,000 square feet, MOSI is the largest science center in the southeastern United States. Learn through play inside Kids In Charge! the largest Children's Science Center in the nation or The Amazing You—a 13,000-square-foot exhibition on health and wellness. Conquer your fears on MOSI's Sky Trail® Ropes Course and Zip Line. Budding inventors can engineer anything imaginable and hold it in the palm of their hand in MOSI's technology playground and inventor's studio, Idea Zone; and aspiring astronauts can travel to the moon to operate a lunar colony in Mission: Moonbase, funded in part by NASA. MOSI is the proud winner of the 2009 National Medal for Museums by the Institute of Museum and Library Services, the nation's highest honor for museums and a recipient of the NOYCE Foundation's Bright Lights Community Engagement Award. For more information on MOSI, visit http://www.mosi.org.