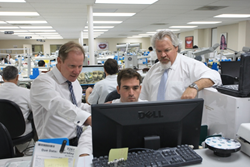 I'm looking forward to being able to use Keating Dental Arts' vast resources and technological expertise to help doctors master cosmetic dentistry - Dr. David Hornbrook
Irvine, California (PRWEB) March 17, 2015
Hornbrook joins the Keating Dental Arts dental laboratory as Clinical Director of Education and Technology, expanding the lab's capabilities to better serve doctors who utilize KDA's services. Providing consultation, over-the-shoulder training opportunities and clinical continuing education opportunities, Hornbrook brings his passion for helping all dentists master their profession to a lab that built its reputation on precision.
"I'm looking forward to being able to use Keating Dental Arts' vast resources and technological expertise to help doctors master cosmetic dentistry," Hornbrook said. "I'm excited for the opportunity to work with a lab with standards of excellence that so easily align with mine."
Hornbrook immediately joins the Keating Dental Arts leadership team, which has been led by Shaun Keating since 2002. Hornbrook's clinical expertise supports the laboratory's existing mission to provide the finest restorations, joining innovations such as the lab's hallmark in-lab process to ensure consistent precision on every restoration.
Keating Dental Arts is one of California's leading dental labs, serving Dentists worldwide. Developer of the KDZ family of zirconia restorations, and the Keating Signature Approach, which consistently yields restorations designed to seat with minimal chairside adjustment. KDA remains on the forefront of restorative techniques as Hornbrook joins its team.
"I've always strived to provide our doctors the finest products and services available," Shaun Keating, KDA President said. "Bringing a doctor of David's stature aboard only vindicates the efforts we made to make our lab the best in the business."
Dr. Hornbrook, DDS, FAACD, FACE is a firm believer that every dentist has the capability to practice esthetic dentistry at the highest and most rewarding levels. His passion for instruction led him to become the executive director of the Hornbrook Group, director and founder of Pac-live at UOP San Francisco and the director at the Las Vegas Institute for Advanced Dental Studies. He's been a guest faculty member for postgraduate cosmetic dental programs, SUNY at Buffalo, Baylor, Tufts, UMKC and the UCLA Center of Cosmetic Dentistry.
-30-