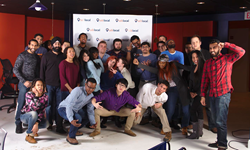 There's never a dull moment in the office.
Washington, DC (PRWEB) March 13, 2015
TalkLocal announced its diversity stats today. Earlier this year, the company settled into its new College Park, MD headquarters and launched an aggressive human resources effort. Now, after holding two career/internship fairs and doubling its sales team, the team released its diversity stats along with a diversity and St. Patrick's Day themed YouTube video.
"Diversity was not something we prioritized during the recruitment process, but the variety of backgrounds, perspectives, and ideas makes us a stronger team," said TalkLocal founder Gurpreet Singh.
The team's staff, sales contractors, and interns have doubled to over 30 in recent months. The survey was conducted in February, Black History Month. Incidentally, at 35%, the largest demographic among TalkLocal team members is people of African descent. Mixed and Latino are the smallest demographic.
Racial Diversity Stats:
Asian/Pacific Islander - 20.6%
Indian - 17.6%
Black/African-American - 35.3%
Mixed - 2.6%
Hispanic/Latino - 2.6%
White/Caucasian - 20.6%
The thanks for this highly diverse team should go, in part, to TalkLocal's close relationship with and proximity to the University of Maryland College Park. The founders worked closely with the campus career center to recruit recent grads and undergraduate interns. The university boasts a 45% non-white student population, and is more diverse than the national average for American colleges and Universities.
Unfortunately, the TalkLocal team admits there's more work to do when it comes to closing the tech gender gap. In keeping with trends plaguing the tech industry, only about 30% of TalkLocal team members are women, including two interning developers. Still, team members from all backgrounds agree that TalkLocal is an inclusive place for them.
TalkLocal's diversity survey included the question "To what degree do you feel accepted by your TalkLocal colleagues and within our company culture?" On a scale of 1 to 10, with 10 being the highest, no respondents ranked TalkLocal's inclusiveness lower than eight. The average was 8.8 with a median of 9.5.
"I've heard so many horror stories about minority students interning at predominantly white companies. I'm glad to say that I can't relate," said TalkLocal intern, Troy Mosby.
"I like working at TalkLocal because of the team chemistry. There's never a dull moment in the office. We are always having fun, which allows us to take our work seriously. It's a great environment and I love coming into work everyday," said Sales Contractor, Greg Kantziper.
"Once you achieve a great company culture, especially when its built on diversity and inclusiveness, you find in your team a willingness to do the hard work and have the uncomfortable conversations that it takes to protect it," said Business Development, Rajesh Karyampudi.
TalkLocal has raised $4 million in venture funding, has served in 49 states, and recently marked its one millionth service request call. It's network has pros in over 50 service categories like roofing, accountants and heating & cooling.
Free to consumers, businesses only pay per conversation following a free lead preview. Consumers get connected over a secure line to protect consumer privacy.
Connect with TalkLocal on Facebook and Twitter. View their St. Patrick's Day themed YouTube video entitled "Kiss Me I'm Irish (Not Really)", by visiting TalkLocal on YouTube.