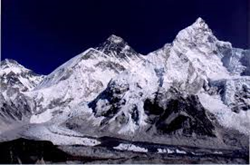 Seeing Mt. Everest in person is a life-changing experience. We can make it happen for many of our contributors.
Kathmandu, Nepal (PRWEB) March 11, 2015
An Indiegogo campaign to Help Nepal's New Entrepreneurs is taking full advantage of the exotic offerings available from Nepal's many shops, merchants, and mountains to offer some of the most unique rewards ever seen on a crowdfunding campaign.
The grandest option for generous contributors is the campaign's fully catered 21-day walk up to Mt. Everest base camp. According to James Rinaldi, Nepal Project Director for the Sirolli Institute, many people have reached out and made contact seeking more details on the Everest trek.
"It's clear that seeing Mt. Everest is a lifetime wish for many of the individuals who e-mail us with questions," says Rinaldi, who is quick to point out there are other Everest options available for those donors who lack the time and energy for such a commitment.
"If you give to the campaign at a certain level and come to Kathmandu, we can book you on the popular 'Mountain Flight' that flies right up to the south face of Everest on a daily basis—it's spectacular."
All donor rewards in this campaign show unusual creativity and innovation. They range from being a quoted contributor to a book being written on the campaign; to a free week in a luxury Kathmandu apartment; to an actual opportunity to volunteer and provide input to the project during its operation. Most donations also come with rare selections from Kathmandu's many street vendors. Tibetan prayer flags, singing bowls, Gurkha knives and Pashmina scarves are among the many giveaways available to those who contribute.
The campaign itself represents a rare approach as well. In Nepal, a country where foreign aid programs are a dominant economic force, the Sirolli method of Enterprise Facilitation that will be introduced through this effort gives the Nepalese full control over the course of their own development.
"We shut up and we listen," says Ernesto Sirolli, the project's creator.
Rinaldi wants to make it clear that the opinions, comments and suggestions generated through the campaign are equally as important as the funds raised, and an open invitation to participate exists to all, regardless of contribution.
"We care mostly about forming a community with this campaign," says Rinaldi. "We'll be on the ground in Nepal starting May 11, and we've got room for anyone who wants to come to Kathmandu and have a look."
For specific information on the campaign go to igg.me/at/sirolli and visit Himalayan Aid's website at http://www.himalayanaid.org