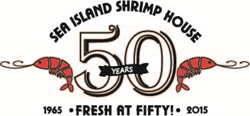 Our new blackening is the classic blend of herbs and spices and pairs perfectly with our fresh redfish, salmon or catfish--Barclay Anthony, Sea Island CEO.
San Antonio, TX (PRWEB) March 11, 2015
Sea Island Shrimp House, a San Antonio seafood icon, is celebrating its 50th year of serving the freshest seafood in San Antonio. This family-owned and operated company is commemorating their anniversary year with new menu items, including its newest offering--Blackening--on its market fresh fish, including Redfish, Catfish or Salmon.
Sea Island's blackening seasoning is the perfect combination of herbs and spices, making it not too hot, but extremely flavorful. Each fish filet is liberally coated with the blackening blend and pan seared to create a light and crispy coating that leads to a tender and juicy center. Prices vary on type of fish and market prices, but at this time are as follows:

Blackened Redfish: $14.99, with two sides and hushpuppies
Blackened Salmon: $12.99, with two sides and hushpuppies
Blackened Catfish: $9.99, with two sides and hushpuppies
In addition to the Blackened Fish, Sea Island is offering a favorite Texan side: Crispy Fried Okra, which is hand-cut and breaded, and can be ordered as a generous a la carte item for $2.19 or as a substituted side for 40 cents. Sea Island's version of this southern classic features a perfect balance of crispy on the outside and tender inside.
Sea Island Shrimp House opened in 1965 by Dan and Chrissy Anthony and their friend Henry Reed. Chrissy Anthony, now 81, is still active in the business, and along with her son Barclay, the company's CEO, oversee six locations and more than 400 employees.
Sea Island Shrimp House is grateful to its loyal customers for their patronage over the years is celebrating their 50th anniversary all year long with special offers, Facebook contests and promotions!
For Facebook followers, the company is giving away monthly gifts such as Spurs tickets, gift baskets, Sea Island spices, condiments, apparel, gift certificates and more. To Like Sea Island on Facebook, go to https://www.facebook.com/SeaIslandSA.
The company is offering members of Reel Rewards, the restaurant's loyalty club program, a chance to win a $50 gift certificate ever month by a drawing. To enroll, go to: http://www.shrimphouse.com/reel-rewards.
Sea Island Shrimp House and Tiago's Cabo Grille are restaurant brands of Sea Island Development Company, headquartered in San Antonio, Texas. For more information, please visit http://www.shrimphouse.com.