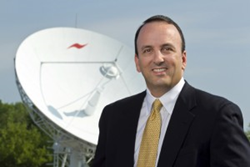 These events will provide many great opportunities to discuss ASC's continually expanding role in the industry.
Plano, TX, USA (PRWEB) March 12, 2015
ASC Signal Corporation will have a significant presence at this year's Satellite 2015 Conference in Washington, D.C., from the 17th through the 19th of March, including participation by CEO Keith Buckley on a Ground Segment Business Forum panel on compelling high-throughput services, and as a supporting sponsor at the 20th annual teleport industry's awards luncheon on March 17. The company also plans to make an announcement about a new initiative related to its Next Generation Controller (NGC) system.
ASC Signal CEO Keith Buckley will join Telespazio, Eutelsat and ViaSat on a panel at 1:30 PM (EDT) on March 17 to discuss the evolution of the HTS service model. He will address the incorporation of frequency bands offering big cost advantages into new applications for teleport and ground segment operators. The panel is titled, "How to Deliver Compelling Services over High-Throughput Networks."
Prior to the panel, at noon in the Washington Convention Center, ASC will toast the current and previous recipients of the World Teleport Association's awards for excellence. The company has again underwritten the luncheon's champagne toast, which launches the ceremony. The awards program is now in its 20th year and has become an iconic and entertaining feature of the Satellite conference. This year's awards finalists were announced on February 25th.
In response to the success of its Next-Generation Controller system, the company also reported that it will announce the creation of a comprehensive training program leading to certification for installation and operation of the controller, which was introduced to the market in 2010.
"ASC Signal looks forward to participating in the discussions on HTS, celebrating the teleport industry's best companies and technologies and telling the market about our new training program at Satellite," said CEO Keith Buckley. "These events, coupled with our exhibit hall booth and presence of our worldwide sales team will provide many great opportunities to discuss the continually expanding role ASC Signal is playing in the satellite industry."
About ASC Signal
ASC Signal is a multinational manufacturer of high-performance, highly-engineered satellite Earth station, radar and HF antenna systems. Our customers include international broadcasters and Fortune 500 companies, as well as military and government organizations. ASC Signal leads through design innovation that capitalizes on a 40+ year heritage of engineering creativity and excellence. ASC Signal is a member of the World Teleport Association and the Society of Satellite Professionals International. http://www.ascsignal.com