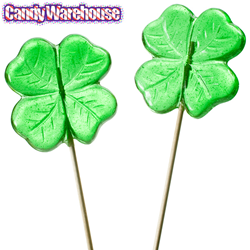 ...let's be honest, most people just want to get right to the candy.
Los Angeles, CA (PRWEB) March 11, 2015
To a die-hard physicist, the color green doesn't actually exist. It's merely the brain's way of interpreting light waves ranging from 495 to 570 nanometers. But to Chris Pratt, founder and CEO of online candy retailer CandyWarehouse.com, color is everything.
"We have a reputation to keep. People see us as the candy experts, and that means having candy in every flavor, brand, and variety, as well as every color."
Pratt's company has been ramping up its collection of green candy for months now in preparation for St. Patrick's Day, one of the most color-driven holidays of the year. Its inventory now boasts over 7,000 unique candy products, with over 300 gummies, hard candies, and foil wrapped chocolates in various shades of green. That's more green than the candy retailer has carried in its 17-year history.
"We wanted to go all out this year, but not just with the color. We also wanted to introduce some new tools that would get customers to the candy faster because, let's be honest, most people just want to get right to the candy," he adds, laughing.
Since its inception in 1998, CandyWarehouse has consistently outmatched the selections of some of the biggest names in online candy retailing; offering more variety than shopping malls and retail chains like Walmart and Target has become par for the course. They even carry several exclusive items that customers simply cannot find anywhere else (see accompanying photo of this item for one example).
"People want that variety. They want to make their celebrations more imaginative, more memorable, and more personalized. That's why they need candy experts like us, with dedicated inventories. But they also need some way of narrowing down all those choices. Our Shop by Color tool allows them to narrow their search down to just the green candy, then just the green gummy candy, and so on. We even have a candy buffet photo gallery to give them some ideas of what they'll need."
With more green candy than ever before, and some new tools to get their customers to the goods more quickly, the candy retailer has plenty of work to do. But there will be little time to relax in the coming months as spring promises Easter egg hunts and wedding receptions aplenty—each one a golden opportunity to elevate the experience for online shoppers ready to graze in greener pastures.