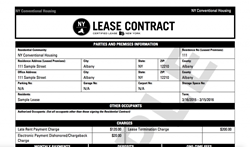 CloudFile facilitates the collection, secure storage and distribution of every shred of paper—on any computer or device and across maintenance teams, contractors, purchasing departments, bookkeepers, property managers, leasing agents and renters.
New York, NY (PRWEB) March 11, 2015
The state's endless laws governing residential real estate continue to burden the business of managing apartments. But as the rules evolve, many landlords and brokers turn to the pioneering online leasing technologists at On-Site.com to keep compliant and stay sane.
On-Site's software platform and professional services automatically adapt to every policy change, providing peace of mind to the managers of nearly one million apartments in this area. The system's security features further protect its users from violating consumer protection laws that mandate how businesses handle sensitive information.
On-Site's success derives from empowering apartment brokers and operators to centrally manage the paperwork and processes involved in leasing units and managing residents. Moreover, the company monitors the growing list of disclosures, calculations and other legal requirements so that its users aren't caught off guard.
Falling out of touch with the latest regulations is serious business. Brokers and businesses violating the law could face hits to their reputation, loss of their license, fines and even jail time. Last year, On-Site unveiled two elements to further bolster its electronic toolkit for brokers and landlords: a platform called CloudFile™ and a Certified Documents™ service tailored for New York City.
CLOUDFILE™ ELEVATES DOCUMENT MANAGEMENT
CloudFile is an online storage and collaboration layer that allows real estate professionals to collect, retain and share documents, maintenance records, invoices and photos from any device securely and simply. In fact, the 25,000 readers of Multi-Housing News magazine voted CloudFile 2014's most innovative new technology.
One popular use for CloudFile is during the application and move-in process. For example, prospective renters can scan or snap a photo of a driver license or W2 form, and upload it using a special link. CloudFile automatically creates a folder for each renter as they apply. Once an applicant has been approved for move-in, leasing agents use CloudFile to take inspection photos and drag them into the proper folder. Meanwhile, residents do their part by uploading copies of their renter's insurance.
Beyond being a convenient time-saver, the platform enforces permissions, integrates workflows and makes collaboration across departments simple—a key to staying on top of changing rules.
One of the massive regulatory changes from last year is to the notice that an owner must give to a new tenant immediately after deregulating a unit when the rent exceeds the $2500 threshold. The revised form includes detailed calculations of the improvements made to the unit that drove up the rent, and must be accompanied by a copy of the registration notice on file with the government.
"Prudent landlords give these forms to tenants right at the lease signing," says attorney Adam Leitman Bailey. "If the owner acted wisely, he was already preparing the form while the apartment was still vacant." Further: "Not only must the owner be able to break down the expenditures in exquisite detail, but also keep the bills, invoices and canceled checks."
A recent CHIP newsletter notes: "For many years, the rule on the books was that tenants could examine records going back four years in the event of a dispute. Unfortunately recent litigation has shown no consistency and landlords have been asked for documentation dating back to the 1980s to justify the rental rate. It's vital for owners to safeguard files going back as long as possible."
What's more, the Department of State recently piled on additional rules for realtors, requiring them to retain for three years copies of the listing agreement, commission agreement, disclosures, and contact information of all parties to a sales transaction.
The Real Estate Board of New York further recommends "maintaining a digital version of records for an unlimited period of time," according to Neil Garfinkel, REBNY Broker Counsel. Indeed, a commission agreement is a contract and the statute of limitations for a legal claim based on a contract is six years.
While this paper chase is a logistical headache for landlords, the stakes are huge for getting it right.
Complicating these requirements are laws in New York such as Disposal of Records and Information and Security Breach Notification. These laws compel businesses to safeguard the personal information of individuals—precisely the types of information found on real estate paperwork.
Thankfully, CloudFile facilitates the collection, secure storage and distribution of every shred of paper—on any computer or device and across maintenance teams, contractors, purchasing departments, bookkeepers, property managers, leasing agents and renters.
With a platform like CloudFile, "the cost associated is nominal and the ability to locate records in the future can be invaluable," Garfinkel writes.
CERTIFIED DOCUMENTS™ SERVICE KEEPS OWNERS COMPLIANT
On-Site's Certified Document program is a property manager's best friend. For years, the product suite has included a forms manager that produces personalized lease and legal documents on the fly, and then delivers them for e-signature. Previously, On-Site's designers made adjustments to the content or style of the forms only when a property requested it, leaving the responsibility to keep the language up to date on the housing provider.
Today On-Site's legal team monitors regulatory changes, court decisions and input from lawyers on the front lines, and then proactively updates a catalog of region-specific forms called Certified Documents.
In the past decade, various New York agencies have introduced or updated dozens of forms, yet the common providers of branded real estate documents seldom, if ever, modify their versions to comply. Further, without centralized management of document templates, it is nearly impossible for owners to know what version is being used where. Because On-Site's technology is web-based, adjustments go into effect immediately, ensuring that only the up-to-date form is presented.
In addition to the myriad forms covering the various types of rent regulation and tax benefits, On-Site's Certified Documents catalog incorporates, automates and monitors an ever-changing set of government-mandated and "best practice" documents unique to New York City: fire safety plan, bed bug disclosure, lead paint disclosures and booklets, preferential rent rider, Fair Credit Reporting Act and Tenant Fair Chace Act language.
ABOUT ON-SITE
Founded in 1999 with technology and service 100% based in the U.S., On-Site is bringing the apartment industry up-to-speed with what today's consumer expects from the renting experience: modern technology and a focus on usability. On-Site's end-to-end platform covers everything from community marketing and renter qualification to lease contract generation with e-signatures and online storage. Plus integrated communication hubs drive resident retention after move-in. The result is a simplified rental experience that leads to greater customer satisfaction and translates directly to the positive side of the balance sheet. For more information about On Site's leasing solutions, visit http://www.on-site.com or contact one of On-Site's online leasing experts at (855) 667-6500.