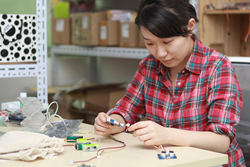 "Seeed Studio wants to enable makers to lead the creative process which is why we've lowered the barrier to entry from a pricing, usability, and support perspective" Eric Pan, CEO
Shenzhen, China (PRWEB) March 11, 2015
Makers are at the forefront of innovation and experimentation and require a special ecosystem that will support them in product development. To enable makers to easily turn ideas into reality, Seeed Studio is announcing today the release of its newest DIY kit, Techbox. Segmented by level of experience, Techbox provides beginners, intermediates, and experts the raw ingredients along with comprehensive tutorials to produce their own product. Each level offers a varying degree of programmability, customization, and ease of use.
For beginners, Techbox is priced affordably at $20 per kit and comes with eight tutorials. Out of box, it presents over 2,000 possible configurations for makers to tinker with. For intermediate users, TechBox provides easy instructions for "one gesture, one procedure" and Li-Fi-like communications and starts at $50. For advanced players, TechBox offers hardware IFTTT and Bluetooth 4.0 communication, which can be controlled through mobile apps for seamless interaction.
To view images of possible applications Techbox can enable makers to design, please visit http://www.seeed.cc/grove/techbox
"With easy to understand toolkits like Techbox, makers can focus more on ideation and design, instead of learning programming languages. Seeed Studio wants to enable makers to lead the creative process which is why we've lowered the barrier to entry from a pricing, usability, and support perspective, " explains Eric Pan, founder and CEO of Seeed Studio.
Eric further explains "Fostering grassroots innovation is the core of this business. Seeed is in a unique position to truly allow makers to innovate with China through our global online marketplace of products and productization services that leverages our in-house engineering, supply chain management, and agile manufacturing. We can help makers build a single prototype or prepare for a mass market launch, supporting hobbyists and entrepreneurs alike."
Seeed Studio will be exhibiting at the SXSW trade show from March 15-18, 2015 at booth 939. Attendees will get a first preview of unique applications made from Techbox, with the opportunity to participate in hands-on workshops.
Social Media Destinations:
Facebook: https://www.facebook.com/pages/Seeed-Studio/164806146894658
Twitter: https://twitter.com/seeedstudio
About Seeed Studio
Seeed Studio is a hardware innovation platform designed to inspire creative hobbyists, tech gurus, and artists from all ages. By working closely with technology providers of every scale, Seeed provides accessible technologies with quality, speed and supply chain knowledge. When prototypes are ready to iterate, Seeed helps productize anywhere from 1 to 1,000 pieces using in-house engineering, supply chain management and agile manufacturing forces. Seeed has extensive partnerships with business incubators and investors around the world, and a global distribution channel to reach makers everywhere. Visit Seeed Studio at http://www.seeedstudio.com