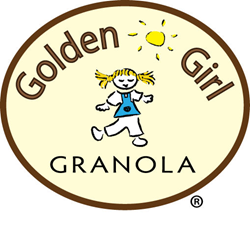 Shirley, MA (PRWEB) March 12, 2015
After four years, Deborah O'Kelly is ready to take their family's all natural granola company to the next level. Golden Girl Granola which comes in seven head-over-heels delicious flavors is now standing tall on shelves at several prominent Northeast retailers such as Whole Food Markets, Hannaford Brothers, Fairway Markets, Crosby's Marketplace, Donelan's Supermarkets and Brothers Marketplace. And based upon their recent success, Golden Girl Granola is now ready to implement their business plan in becoming a Northeast regional brand.
Like any other family-owned and operated company, Golden Girl Granola started from a very humbling beginning with Deborah's daughters, Catherine and Jacquie selling hand-crafted mini-doughnuts and lemonade at the Carlisle farmer's market. Learning quickly, however, that handcrafted mini-doughnuts had a very short life span, Jacquie decided to experiment by making homemade granola and in one afternoon created six granola recipes. From there, Jacquie produced the brand name, Golden Girl Granola, created names for each flavor and designed the product labels.
Armed with new granola, the entire O'Kelly family would work the farmer's market each week selling Golden Girl Granola, pies and cookies along with Deborah's husband Terry setting up the tent and assisting in selling Golden Girl Granola. Soon event goers began to spread the word about how delicious and enjoyable Golden Girl Granola really was. Golden Girl Granola would sell out every time.
Unfortunately, with the farmer's market season over, event goers no longer had a way to purchase Golden Girl Granola. But shortly after the season ended, Deborah received a phone call from long time friend Larry Bearfield of Fern's Country Store in Carlisle, MA telling her customers had requested her Forest Maple granola. Excited by the call, Deborah now had her first store selling Golden Girl Granola, but even more so, she felt that Golden Girl Granola could become a business. With Catherine and Jacquie heading off to college, Deborah made the decision to take over the responsibility of baking the granola and growing Golden Girl Granola into a viable business.
However, before she could do that, Deborah realized she would now need a commercial kitchen with large orders coming in from Fern's Country Store. With the help of her husband Terry, they found a commercial kitchen in Chelmsford, MA. and then later in that year they introduced two new flavors of granola; Truly Tropical a gluten-free version and a seasonal Pumpkin Harvest.
"I never realized how complex the food industry was. It's an industry that has many, many different layers. From finding suppliers, talking with distributors and then finally getting your product in front of category buyers, it's quite a maze to navigate through," said Deborah O'Kelly.
Reflecting back on the last four years, Deborah remembers the many little victories that kept pushing her forward. First, from being placed in their first Whole Foods Market, and their participation in the "Walk for Children's Hospital" to seeing the Golden Girl Granola logo proudly displayed on a huge banner next to Pepsi and Frito Lay.
"Since we baked our first batch of granola, the goal was always to make a great tasting product that would provide consumers with a healthier choice. I'm proud to say that our goal from four years ago is still fueling the success and growth of Golden Girl Granola," added O'Kelly.
Today, Golden Girl Granola is available in seven delicious flavors that include Bluesberry, Chocolate Decadence, Creative Cranberry, Forest Maple, Home Sweet Honey, Original and Truly Tropical. Golden Girl Granola is an all natural, whole-grain granola that is non-GMO, dairy free, cholesterol free, casein free, trans-fat free, wheat free and has no preservatives, artificial color or flavors.
Golden Girl Granola is a fan favorite of health conscious consumers who want to eat healthy without sacrificing taste. Golden Girl Granola can now be found on retailer shelves across New England and in New York and New Jersey. Golden Girl Granola is distributed by F&B Distributors of Lawrence, MA. and McMahon's Farm of Hopewell Junction, New York.
About Us:
Golden Girl Granola™ is a family owned and operated business located in Shirley, Massachusetts and produces a branded line of gourmet granola products superior in taste and made from the highest-quality ingredients. Golden Girl Granola is a "Healthy Snack" alternative for health conscious consumers who appreciate good taste. Flavors include Forest Maple, Creative Cranberry, Bluesberry, Chocolate Decadence, Original, Home Sweet Honey, and Truly Tropical. Golden Girl Granola offers the complete line nationwide for Chain Supermarkets, Independent Supermarkets, Gourmet Food Stores, Club Stores and Convenience Stores. For more information contact Deborah O'Kelly at 978-425-5058 or e-mail her at deborah(at)goldengirlgranola(dot)com.