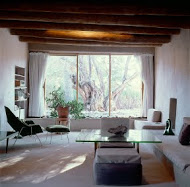 Santa Fe, New Mexico (PRWEB) March 11, 2015
Tuesday, March 10 marks the opening of tours of the Abiquiu Home and Studio of Georgia O'Keeffe, allowing visitors to see how the artist lived and how her personal lifestyle reflected her Modern aesthetic. The tours are arranged through the Georgia O'Keeffe Museum.
Touring the home and studio property in Abiquiu allows visitors to see where O'Keeffe created some of her most famous paintings. O'Keeffe originally purchased her home in Abiquiu in 1945 from the Archdiocese of Santa Fe and supervised a four-year restoration of the property, creating a living and working space that revealed the magnificent views of the valley and mountains beyond.
"This is a unique opportunity for visitors to see and experience the inspiration behind some of Ms. O'Keeffe's most well-known works," said Agapita Lopez, Director of Historic Properties, who worked for O'Keeffe for over a decade. "By witnessing her own creative lifestyle, one garners a much deeper appreciation of her aesthetic and artistic output."
Visitors to the property enter through O'Keeffe's garden, from which the artist cultivated a bountiful annual harvest, made further evident through the canning supplies in the well-stocked pantry and kitchen. Throughout the property, visitors will see everyday items used by O'Keeffe, as well as many of the rocks, skulls and treasures she collected and featured in her artworks, the large windows and abundant light where she painted in her studio, a collection of Modern, minimal furnishings from big names in Mid-century design – pieces by Herman Miller, Charles Eames and Eero Saarinen are scattered throughout the house.
Recent updates on the catalogue records at O'Keeffe's Home and Studio in Abiquiu have unearthed new information about long-hidden items, adding to the intellectual understanding of the property. These new insights will be incorporated into the tours of the home and studio, along with displays of personal objects that O'Keeffe used in daily life. Tours are given Tuesday, Thursday, and Friday through May 29; beginning June 7, additional tours are added on Wednesday and Saturday. Special and behind-the-scenes tours are offered on a limited basis. Visit okeeffemuseum.org/abiquiu for complete schedule information, ticket purchases, directions, and guidelines.
###
ABOUT GEORGIA O'KEEFFE MUSEUM:
To inspire all current and future generations, the Georgia O'Keeffe Museum preserves, presents and advances the artistic legacy of Georgia O'Keeffe and modernism through innovative public engagement, education, and research. Opened in Santa Fe, New Mexico in 1997, the Museum counts O'Keeffe's two New Mexico homes as part of its extended collection. The Museum's collections, exhibitions, research center, publications and educational programs contribute to scholarly discourse and serve a diverse audience. For more information, please visit http://www.okeeffemuseum.org/
ABOUT SUMMER OF COLOR:
Summer of Color Santa Fe is a citywide celebration of the rich and vibrant colors that have made this city an artists' mecca for over a century. Anchored by the museums and events on Museum Hill, Summer of Color includes Santa Fe's leading cultural institutions, art galleries, and restaurants in a collaboration of color-themed events, exhibitions, programs, and menus that celebrate the rich artistic and cultural offerings of the city. The summer arts celebration extents from Memorial Day through Labor Day; additional information can be found at summerofcolorsantafe.org
For further information, or to request high resolution or other available image files, please contact:
James Briggs, Director, JLH Media
james(at)jlhmedia(dot)com
478 542 3409