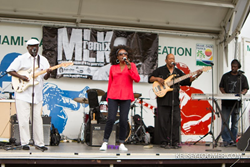 South Miami, FL (PRWEB) March 11, 2015
On Saturday, February 28, 2015, Branches South Miami hosted the 2nd Annual MLK Remix at the Bethel-Gibson Community Center located at 5800 SW 66th Street, South Miami. The MLK Remix featured the South Miami MLK Unity Parade in the morning followed by a free outdoor festival designed to promote peace and understanding in our community through education and the arts. The festival included live performances, kid-friendly hip-hop dance classes as well as hands-on activities like arts & crafts, face painting, rides and more. Several food vendors were also on site, offering delicious options for lunch. The festival was supposed to take place from 11am to 4pm yet was cut short by about an hour due to heavy rains. However, performers and attendees still had an incredibly uplifting day filled with fun, fellowship and amazing entertainment.
Thank you to Winn-Dixie who was this year's premiere sponsor of the event. The MLK Remix was also made possible with the support of the Miami-Dade County Department of Cultural Affairs and the Cultural Affairs Council, the Miami-Dade County Mayor and Board of County Commissioners.
The festival day began with the MLK Unity Parade marching right into the Remix, and the program kicked off with Detective Guzman from the South Miami Police Department singing the National Anthem. Reverend James of Mt. Olive Baptist Church, which houses Branches South Miami, then followed delivering a short message and the invocation. Many performers entertained the 350+ festival attendees throughout the day including the Branches South Miami youth group's The D'Vine Collective, SIGN (Singing In God's Name), South Miami's Grey Ghost Steppers, Hip Hop Kidz, Ike & Val Woods, the Drum Line from the Men's Preparatory Academy, Bachaco and DJ Smoov. A huge thank you to the City of South Miami and all the committed performers who put on a terrific show and made this festival extra special for the South Miami community.
To learn more about this annual event and/or get involved with the planning for 2016, please contact Isabelle Pike at ipike(at)branchesfl(dot)org or 305-442-8306 x1002.
About Branches
For over 40 years, Branches has made a positive impact in the community by delivering on its mission to serve, educate and inspire people through student, family and financial stability services. Branches provides long-term, holistic services for motivated individuals and families. We help people grow deeper and climb higher in life by building a foundation through education so they can achieve their goals and fulfill their potential. For additional information about Branches, please call 305.442.8306 or visit http://www.branchesfl.org.