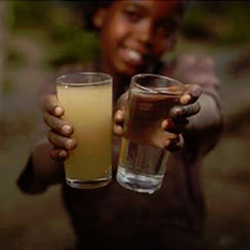 Please carefully consider the circumstances in which they live and think about giving
(PRWEB) March 12, 2015
One out of every nine people today do not have access to clean water. As part of its commitment to making a difference, Safe Money Resource is proudly supporting charity: water to meet this prolific need. Brent Meyer, President and co-founder of Safe Money Resource, has started a campaign to help increase clean water access in countries where it is greatly lacking.
"In the world today, there are millions of people without clean drinking water. Their health, economic well-being, and quality of life are greatly affected," said Meyer. "We are greatly pleased to be supporting charity: water in their vision of overcoming the global water crisis within this lifetime."
According to charity: water, 748 million people worldwide suffer from lack of access to clean, safe drinking water. The impact is tremendous: diseases from unsafe water and lack of basic sanitation cause more human deaths per year than all forms of violence, including war. In just Africa alone, people spend 40 billion hours walking from their villages to nearby sources for water – and that is not a guarantee the water they find is safe to drink. 90% of all deaths resulting from unclean water and/or unsanitary living conditions are among children who are five years of age.
Safe Money Resource has set a goal of $10,000 for helping charity: water fund clean water projects globally. Since its founding in 2006, charity: water has funded 16,000+ water projects for 5+ million people in 24 countries, with 100% of public donations going toward project works. Donations of any amount are greatly appreciated. More information about this worthy cause can be found at: https://my.charitywater.org/helping-others-2.
Aside from health, water has a substantial impact on economic development. According to charity: water, for every dollar invested in improved water supply and sanitation, it can produce four to twelve dollars for local economic development, depending on the project type. Living conditions and quality of life are strengthened.
As a non-profit, charity: water maintains strong accountability for all donations by working closely with capable local partners it has carefully vetted. Once a water project is completed, the project's GPS coordinates and information on the people benefiting from it are released. The non-profit's water programs are in place in countries in Africa, Asia, Central America, and South America.
"There are many underserved populations which do not have the easy access to water we have in developed countries. In many instances, women and children will venture for miles away from their villages for water, carrying it home in containers that weigh 40 pounds or more," Meyer continued. "Please carefully consider the circumstances in which they live and think about giving. Just $30 can give someone access to clean water. It really is a powerful way to make a difference with just one donation."
For more information about charity: water, visit http://www.charitywater.org.
About Safe Money Resource
Founded in 2006, Safe Money Resource is a small network of licensed, independent financial planning specialists. These professionals are committed to helping seniors and investors achieve lasting retirement security with financial strategies tailored to their specific needs. As a network, Safe Money Resource has relationships with over 40 insurance carriers, and it vigorously researches, evaluates, and analyzes every financial product before making any recommendation to its associates. A comprehensive, online hub for financial education is also available for investors from Safe Money Resource. For more information, please visit: http://www.safemoney.com.