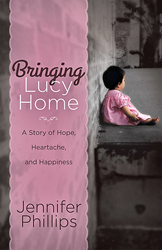 I also wanted to portray an honest depiction of the heartbreaking beauty of adoption and point others toward the beauty of our own adoption story as God's children.
Brisbane, AUS (PRWEB) March 11, 2015
CrossBooks is pleased to announce the nationwide release of "Bringing Lucy Home: A Story of Hope, Heartache, and Happiness" by Jennifer Phillips, an American missionary in Australia whose adoption of a special needs child in China became an unexpectedly messy journey. From having to be apart from her husband and three other young children for more than two months because of complex immigration issues, to the initial rejection she felt from her adopted daughter, Jennifer's experience has already encouraged thousands to keep faith throughout whatever difficult circumstances they may face in life.
Phillips and her husband first traveled from Australia to China to adopt their daughter. When she and Lucy continued on to the United States to obtain the child's American citizenship, legal complications meant they had to stay there for months before rejoining their family half a world away. Jennifer chronicled the pain and frustration of that separation—the struggle to see God's hand in what she'd hoped would be a purely joyous event—in a blog that quickly received 60,000 hits and was soon excerpted to a wider audience on The Gospel Coalition web site.
"I thought our journey could encourage others who are fighting to hold on to their faith in their own challenges," said Phillips. "I want people to experience freedom as they realize that faith is messy, and that's okay. I also wanted to portray an honest depiction of the heartbreaking beauty of adoption and point others toward the beauty of our own adoption story as God's children."
With the same transparency that made her blog so popular, Jennifer addresses the aspects of adoption that aren't easy—emotional ups and downs, financial hurdles, and moments of doubt and fear. That willingness to bare the ugly alongside the beautiful has resonated with readers.
Paul Mikos, publisher at CrossBooks, added, "Bringing Lucy Home is more than a tale of adoption. It reveals the spiritual impact God made on a loving mother as the experience became an ongoing object lesson about her relationship to her heavenly Father. This book is especially relevant to Christian women who long to read and share authentic faith stories."
Bringing Lucy Home is available now online through CrossBooks on LifeWay.com as well as Amazon, Barnes & Noble, and other major retailers.
About the Author
Jennifer Phillips grew up in Tennessee as a minister's daughter, graduated from Samford University in Birmingham, Alabama, and later served as executive director of Sav-a-Life, a network of crisis pregnancy centers. She and her family currently live in Brisbane, Australia, where her husband, Brian, serves with Uni-Impact, a franchise of Campus Outreach. Jennifer continues to blog at littlelucymei.blogspot.com.
An imprint of B&H Publishing Group, CrossBooks offers a unique blend of traditional and self publishing. It serves a variety of Christian writers, from established authors to Christian leaders and first-time authors. As a ministry of LifeWay Christian Resources, CrossBooks is committed to unwavering principles of excellence and Christian faith. For additional information, please visit CrossBooks.com.