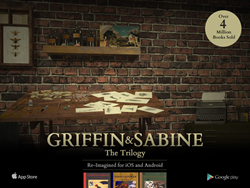 "This is an innovative project and one that we hope will catapult 'Griffin and Sabine', 'Sabine's Notebook' and 'The Golden Mean' into the electronic age.
SANTA MONICA, CA (PRWEB) March 11, 2015
Nick Bantock and Bound Press have launched a Kickstarter campaign in support of the development of three new interactive apps for iOS and Android based on the best-selling book trilogy 'Griffin & Sabine.'
Live link: http://kck.st/1wWo6zt
Bound has been in stealth mode and licensed the books to be adapted in fall 2014 and launched both the company and the project at the beginning of 2015.
"This is an innovative project and one that we hope will catapult 'Griffin and Sabine', 'Sabine's Notebook' and 'The Golden Mean' into the electronic age, whilst keeping faithfully to the cards and letters that made the originals such whopping great best sellers," stated Bantock in his Kickstarter introduction video.
Bound partners include David Nichols and Scott Wolfe, who both have extensive experience in software development and who have collaborated on creating projects for over 20 years. They both have run digital marketing agencies and Nichols has produced interactive projects for Nick Bantock (The Venetian - SageTales, 2012) as well as artists as diverse as Prince, DEVO and music producer, Don Was. He also produced previous interactive narrative experiences from original content and adaptations from writers such as Edgar Allen Poe (The Dark Eye, Inscape 1995) and others.
Scott Wolfe, CCO of Bound stated, "Nick Bantock has provided us such great creative work and has supported this project with amazing commitment and energy. With the support of the Kickstarter community, we'll be able to realize the full potential of this project and offer new perspectives of this universally loved tale."
Re-defining the Read…
Bound has taken on this project with the goal of re-imagining the Griffin & Sabine Trilogy. The original printed books were unique themselves and could have even been called, 'Interactive', having the reader as a voyeur of an epistolary tale that required us to open someone's else's cards and letters to receive the story. Couple that with the luscious artwork and you have the foundation for a highly engaging app experience. Bound has created a 3D environment, whimsical animations and a full musical score to add to the ambience and immersion of that world.
Kickstarter
As the launchpad for many cutting edge and new products, Kickstarter seemed the obvious platform to engage a community of Nick Bantock fans to fund the interactive App adaptation of the beloved Griffin & Sabine first trilogy. Bound has worked with Nick to create a solid creative and technical development plan and the Kickstarter community is invited to support our efforts with the benefit of receiving not only the apps but other rewards that have a direct connection to Nick and the Bound Press production.
About Nick Bantock
Nick Bantock is known throughout the world for his art, for his writing and particularly for his marriage of the two. His books have topped many best seller lists and have been translated into a multitude of languages. His first Griffin and Sabine trilogy stayed on the NY Times best seller list for over two years. His art hangs in private collections all over North America and Europe and in 2011 he was given a major retrospective exhibition at the MOA in Denver. As a teacher and speaker he is probably best described as...motivational and mischievous.
http://www.nickbantock.com
About Bound Press
Bound Press was launched in the fall of 2014 by David Nichols and Scott Wolfe after decades of designing and developing award-winning interactive experiences. With roots in creative design, advertising and software development, Bound is here to redefine the consumption of digital content online and with mobile Apps. Bound is also working overtime to bring fully immersive virtual reality experiences to both the consumer and corporate sectors. With projects currently in development for Oculus Rift and mobile VR, utilizing both 3D modeling and 360 degree video, our goal is to transport users into other worlds.
http://www.boundpress.com
Contact:
David Nichols
310-751-4700
dave(at)boundpress(dot)com
Photos
All art and images are available and clear to use on the Kickstarter page for Griffin & Sabine.
Related Links
Live Kickstarter Link: http://kck.st/1wWo6zt