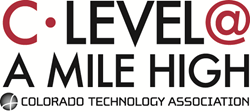 CTA is an essential catalyst for the technology economy in Colorado.
Denver, CO (PRWEB) March 11, 2015
Zunesis, an IT solution provider in the western United States, is excited to be sponsoring the Colorado Technology Association's (CTA) C-Level @ Mile High for the third consecutive year. C-Level @ Mile High, which will be held at Sports Authority Field on March 19th, is the largest annual technology business exchange in Colorado and is also CTA's largest annual fundraiser.
This event brings together more than 1,200 industry leaders, including over 65 "celebrities" representing more than 60 tech-related companies, for the opportunity to build and develop both personal and professional relationships. Attendees have the unique opportunity to talk with C-Levels about their upcoming business initiatives and bid on meeting packages with celebrities to further those discussions.
Billions of dollars of potential IT spend will be in the room, and this event provides Colorado companies a chance to learn where their specialties align with upcoming IT projects so that they can decide where to focus their sales efforts. Ultimately, connections made at this event often mean that valuable business stays in Colorado.
Having participated in the event for multiple years, Zunesis is eager to once again be a contributor. Zunesis' VP of Sales, Mitch Ross, commented, "We are proud to be a member of CTA and support their special events like C-Level because they do a great work in building and educating the technology community right here in Colorado."
Those who have attended the event in previous years confirm the incredible value it provides to both vendors and clients as a way to meet and interact with peers, develop partnerships, and grow their business, all while supporting a worthy, local cause.
Event Details:
Date: Thursday, March 19th, 2015
Time: 5:00 p.m. - 8:00 p.m.
Place: Sports Authority Field @ Mile High, 1701 Bryant Street, Denver, CO 80204
For more information, please visit the event webpage.