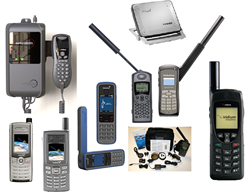 The GlobaFone Education Series delivers knowledge that enables better decision-making when buying satellite phones
Portsmouth, NH (PRWEB) March 11, 2015
GlobaFone, a leading multi-carrier satellite service provider has announced the next two installments in the industry leading GlobaFone Education Series.
The first webinar, 'How to Choose the Right Satellite Network', will be delivered on Thursday March 26 at 3:00 PM Eastern time. Register HERE.
The second webinar, 'Introduction to Satellite Data Solutions' will be held Monday March 30 at 1:00 PM Eastern. Register HERE . GlobaFone CEO Lou Altman will present both of the webinars.
"For too long people needing satellite communications relied on the salesperson to guide them, and frequently the solution is better for the salesperson's company than the client", said GlobaFone CEO Lou Altman. "Through the GlobaFone Education Series I deliver knowledge that will enable better decision-making when a buyer needs to place an order for SatCom."
'How to Choose the Right Satellite Network' shows that you are as well as buying a satellite phone, you are also buying service on a particular network. This webinar will outline the capabilities and solutions that you can expect in order to more closely align them with your objectives.
'Introduction to Satellite Data Solutions' offers a top-level view at data solutions; new devices designed for more data-centric use. From portable broadband to personal Wi-Fi hotspots, there are more ways to keep in touch than ever before.
Both webinars are free, but spaces will fill up fast. Register early to be sure you reserve a space.
ABOUT GLOBAFONE:
GlobaFone of Portsmouth, NH is an award-winning, leading service provider of satellite voice and data solutions to Federal, State and Local Governments, and corporate clients. GlobaFone solutions include five brands of satellite communications – Iridium, Inmarsat, Globalstar, Thuraya and VSAT. GlobaFone also provides cellular service for rent or lease with coverage across the planet.