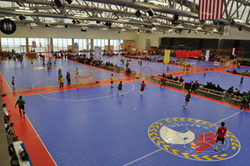 SnapSports has manufactured a high performance product with an incredible level of impact injury protection - Alex Para, CEO, USFF
Salt Lake City, Utah (PRWEB) March 11, 2015
SnapSports® Athletic Surfacing will be the official sports flooring of the U.S. Futsal Northwest Regional Championship, the road to the U.S. National Championship. The U.S. Futsal Northwest Regional Championship will be held March 13-15, 2015 at the San Jose Convention Center. Over 200 Athletic teams will compete on 8 courts, comprised of 70,000 square feet of SnapSports multi-patented BounceBack® surfacing featuring the exclusive ShockTower® Technology, individual shocks provide a primary and a secondary level of "give" designed to reduce the vertical impact on athlete's joints and extremities.
U.S. Futsal, now in its 35th year, has been the governing body of the sport of Futsal in the United States since 1981, sponsoring state, regional and national tournaments since 1985. Led by CEO and Chairman Alex Para, the organization has exclusively chosen SnapSports as its official flooring citing the product's cutting-edge design and superior performance. In addition, the U.S. Futsal Organization believes that SnapSports athletic surfacing provides their athletes the safest playing floor in the industry.
"The team at SnapSports is unmatched. Each year they continue to prove that they are the industry leader in athletic surfacing, designing and manufacturing cutting edge products that far surpass the competition. SnapSports has manufactured a high performance product with an incredible level of impact injury protection that U.S. Futsal is proud to endorse." –Alexander Para, CEO, USFF
SnapSports, the industry leader in modular athletic surfacing, is a proud partner of U.S. Futsal. Continuously engineering the most innovative products available on the market today. SnapSports offers exclusive, multi-patented flooring, such as the BounceBack ShockTower® surfacing, which provides superior shock absorption technology designed to ease the impact on player's joints. Designing products with superior traction control, performance, and safety features, is top priority for SnapSports, whose team has been in the industry for nearly four decades.
"SnapSports is proud to be the Official Sports Floor of the United State Futsal Federation and have the opportunity to support the sport of Futsal in its growth and expansion across the country. Our focus remains to continuously develop the highest performance and safest modular sports flooring systems for athletes of all levels." – Jorgen Moller, CEO, SnapSports
SnapSports manufacturers 24/7 in their 150,000 square foot ISO 9001:2008 Quality certified facility in Salt Lake City, Utah. SnapSports is the Official Court of The United States Futsal Federation, The 2014 NBA Jam Session, NBA Nation, 2015 NBA House presented by BBVA Compass, AAU Jam On it, AAU All Under one Roof and USA Team Handball. SnapSports is an official FIBA Technical Partner and has been a proud past partner of The Special Olympics, The National Veterans Wheelchair Games, The Volleyball Festival, Gus Macker 3X3, The Vanilla Ice Project, World Police & Fire Games and The National Collegiate Roller Hockey Championship to name a few. SnapSports surfaces are made in the USA and played on around the world.