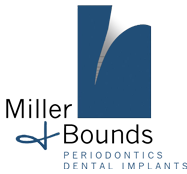 Orange County, CA (PRWEB) March 10, 2015
People who need gum disease treatment in Irvine and Orange County, CA, can now visit Drs. Steven Bounds and Todd Miller for the LANAP® protocol, a less-invasive alternative to conventional gum surgery. This procedure utilizes a laser to remove gum disease while promoting alveolar bone growth and preserving healthy gum tissue. Since the procedure does not require incisions or sutures, it poses a low risk of various complications, including infection, pain and bleeding.
Drs. Bounds and Miller begin the LANAP® protocol by measuring how deep the patient's gum pockets extend and then remove periodontal disease with the PerioLase® MVP-7™, which uses a wavelength that is only harmful to the bacteria that cause gum disease. Then, the doctors remove tartar from below the gumline with a scaling tool and apply the PerioLase® MVP-7™ a second time. The laser has a cauterizing effect, which reduces the risk that infections will develop after the treatment. After the gum surgery procedure is complete, patients can usually return to their normal activities within a day without risking adverse symptoms.
Drs. Bounds and Miller may recommend this gum disease treatment to patients from Irvine and Orange County, CA, for various reasons. As a minimally invasive procedure, the LANAP® protocol introduces a low risk of infection, discomfort and delayed healing. The procedure also discourages tooth loss. The PerioLase® MVP-7™ promotes regeneration in the alveolar bone, which anchors the teeth in place; this regeneration can give damaged teeth the chance to attach more firmly to the bone, reducing the long-term likelihood of tooth loss. Traditional gum surgery does not offer this beneficial effect. Additionally, patients typically do not need to schedule multiple appointments with Drs. Bounds and Miller for this treatment; with the LANAP® protocol, the doctors can often address even advanced or widespread periodontal disease in one session.
Drs. Bounds and Miller encourage patients to know the signs of periodontal disease because the condition can have serious consequences if it is left untreated, including gum recession, tooth loss and systemic health problems. Gum swelling, redness, bleeding, pain and recession are all indications that professional treatment may be necessary. Patients from Irvine and Orange County, CA, who notice symptoms of gum disease and would rather avoid more invasive types of gum disease treatment are encouraged to contact the doctors' practice office to schedule a consultation about the LANAP® protocol.
About the Practice
Miller & Bounds Periodontics and Dental Implants is a periodontal practice providing personalized dental care for patients in Irvine, CA. Dr. Todd E. Miller received his Doctor of Dental Surgery from the University of California Los Angeles Dental School in 1980, where he also served as a clinical periodontics instructor at the UCLA Dental School. Dr. Miller's partner, Dr. Steven J. Bounds, graduated from Creighton University School of Dentistry, where he received his Doctor of Dental Surgery degree in 1996. Dr. Bounds went on to complete his Certificate of Specialization in Periodontics at Ohio State University, where he also served as a clinical instructor to the university's dental students and contributed to biochemistry research efforts. Both doctors have extensive experience in all aspects of periodontal treatment, including dental implants, periodontal plastic surgery, gum and bone regeneration, and IV conscious sedation. Drs. Miller and Bounds are among the first group of periodontists and dentists in the country to undergo the training required to perform the Chao Pinhole Surgical Technique™, a new, minimally invasive alternative to traditional gum grafting surgery. They also belong to the one percent of dental professionals currently providing the LANAP® protocol, the first FDA-cleared laser procedure for gum disease and periodontal treatment. To learn more about the dental services available at Miller & Bounds Periodontics Dental Implants, please visit http://www.millerandbounds.com or call (417) 889-5297.