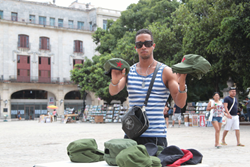 New York, NY (PRWEB) March 12, 2015
Travel with PASSPORT magazine in the newest issue to Cuba and Palestine to find out why these two undiscovered destinations will soon be on the top of the must-see list for adventurous LGBT travelers. Passport dives deep into the heart of these two fascinating places that are often shrouded in mystery.
Off-limits to Americans for decades, Cuba is full of culture, history, culinary delights, and an unexpectedly vibrant gay scene. Editor Joseph Pedro explores the capital city of Havana and meets some of Cuba' s pioneering LGBT residents who reveal the unique soul of this vibrant island nation.
When "sharing a mojito with a local," Pedro says tourists "...may be surprised to see just how open and honest [Cubans] are about their lives and their country."
Journalist Allister Chang lifts the veil on gay Palestine and uncovers some extraordinary people and places during his journey. Experience the natural wonders and historical sites that make this part of the world a compelling destination for so many people of different nationalities and religions.
Says Chang of a gay couple he met in Ramallah, "…one self-identified as Israeli and the other as Palestinian, and their Romeo and Juliet story of sneaking across military checkpoints in order to be together… is true love, cutting across the various transections of hatred and fear."
To arrange an interview Passport's editors or writers, please email editor(at)passportmagazine(dot)com.
With PASSPORT Magazine always expect the unexpected.
About PASSPORT Magazine:
PASSPORT Magazine has been the #1 LGBT travel resource since 2001. According to the Travel Channel: "PASSPORT is a great travel resource with in-depth articles about exotic destinations, travel gear and much more."