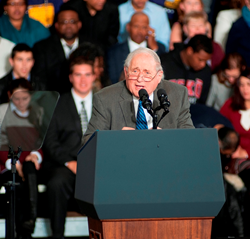 Detroit, Mich (PRWEB) March 10, 2015
Wayne State University today announced the creation of the Levin Center at Wayne Law, named in honor of Senator Carl M. Levin, Michigan's longest-serving U.S. Senator.
Through academic programming, training, and scholarship, the Center will equip lawyers, legislators and leaders with an understanding of how effective legislative oversight can lead to significant and meaningful changes in public policy and institutional behavior. The Center will initially focus on legislative process and the oversight authority and responsibility of the legislative branch to ensure that public and private institutions serve the public good.
"We are extremely proud to be launching the Levin Center at Wayne Law. It will be a living tribute to Senator Levin's ideals, integrity, leadership and commitment to public service," said Jocelyn Benson, Dean of Wayne Law. "As Detroit's public law school, Wayne Law seeks to instill in our students a commitment to public service and high ethical standards. Who better to learn that from than Senator Levin? We are extremely excited to welcome Senator Levin as a member of our Wayne Law community, and provide our students with the opportunity to learn from and follow in the footsteps of this living legend."
"When Senator Levin retired from the U.S. Senate, his colleagues called him 'the best lawyer in the entire Senate,' a 'senator's senator,' and 'Mr. Integrity,'" said WSU President M. Roy Wilson. "Senator Levin will be an inspiration to our students and faculty."
"My years in the Senate have shown me the central role that oversight can play in promoting government, corporate and institutional responsibility and accountability," Levin said. "I am honored to be a part of Wayne State University and its Law School, which are both doing so much to promote community service and public interest."
In addition to serving as Chairman of the Center, Senator Levin will be joining the faculty at Wayne Law as the school's Distinguished Legislator in Residence. In that capacity, Levin will co-teach courses on various subjects, including tax law and policy and legislative process and oversight. The first course will be offered in Fall 2015, and will focus on the role of legislative oversight in addressing abusive federal income tax practices.
Eugene Driker, founding member and senior partner at the Detroit law firm of Barris, Sott, Denn and Driker and former WSU Governor, will chair the Advisory Board of the Levin Center. The Board will include locally and nationally recognized leaders along with members of Wayne Law faculty and students. It will provide counsel to Senator Levin and Center staff on programmatic issues, collaborations, and activities that will further the Center's focus on the legislative process and governmental oversight at the federal, state, local, and international levels. The Board will also lead the creation of an endowment at the University funded by contributions from individuals, corporations and foundations who wish to support the Center's important mission.
"I am deeply honored to chair the Levin Center Advisory Board," said Driker. "For five decades Carl Levin has personified what it means to be a committed public servant. By transmitting his wisdom and experience to others, his influence on public policy will be felt for generations. This Center will bring great distinction to Wayne State and to Detroit, on whose behalf Senator Levin has worked tirelessly his entire life."
The Levin Center at Wayne Law will initially focus its activities in four primary areas:
--Workshops and training sessions for federal, state, local, tribal and international leaders and staff on how to best advance their oversight roles within their institutions.
--Academic coursework hosted at Wayne State University covering the legislative process, oversight, the role of taxation in individual and institutional behavior, and economic regulation.
--National forums and programming on a topics such as oversight of the CIA, tax loopholes and how they affect income inequality, corporate taxation reforms, regulating banks, and government ethics.
--Conduct and publish research to advance the role of the federal, state, local and tribal governments in overseeing public and private institutions, particularly in the Midwest region of the country.
In his 36-year Senate career, Senator Levin earned deep respect from his colleagues on both sides of the political aisle for his integrity, resourcefulness and diligence and his remarkable ability to build consensus. As chairman of the U.S. Senate's Permanent Subcommittee on Investigations, Senator Levin epitomized the critical watchdog role that lawmakers must play in holding public and private institutions to the highest standards of accountability, and rooting out waste, fraud and abuse. He was known for carrying out bipartisan, fact-based, and fair inquiries that led to meaningful reforms. His landmark Enron investigation supported passage of the Sarbanes-Oxley Act of 2002, strengthening U.S. financial reporting and accounting rules. The Levin-led subcommittee produced the only bipartisan report on key causes of the financial crisis and held hearings that helped break the filibuster of the Dodd-Frank Act of 2010, eventually leading to the most significant financial market reforms in a generation.
Senator Levin's ties to the city of Detroit run deep. He and his wife, the former Barbara Halpern, a Wayne Law graduate, are lifelong residents of the city. Prior to his Senate service, Levin was President of the Detroit City Council. He also served as the first general counsel of Michigan's Civil Rights Commission, after which he was special assistant attorney general for the State of Michigan and chief appellate defender for the city of Detroit. At that time he helped to open the Legal Aid and Defender office in the city, the largest provider of legal services to low- and moderate-income people in Michigan and one of the largest in the nation.
Senator Levin earned a J.D. from Harvard Law School and a B.A. in political science from Swarthmore College. Wayne State recognized Levin with an honorary degree in 2005. He and his wife Barbara have three daughters: Kate, Laura and Erica; and six grandchildren. His brother, Congressman Sander Levin, represents Michigan's Ninth Congressional District.
In addition to serving as Chairman of the Center and Wayne Law's Distinguished Legislator in Residence, Senator Levin will act as Senior Counsel to Honigman, Miller, Schwartz and Cohn LLP, a leading business law firm with five offices in Michigan.
Wayne State University Law School is the premier public-interest law school in the Midwest. Civil rights, entrepreneurship, environmental and international programs, and their related clinics, set Wayne Law apart as an advocate for justice committed to serving the community. For more information, visit law.wayne.edu.
Wayne State University is a premier urban research institution offering more than 370 academic programs through 13 schools and colleges to nearly 28,000 students.