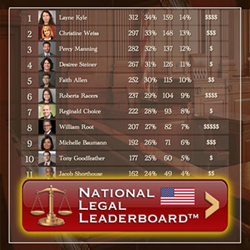 We believe in equality for fathers and mothers, and we are 'Working to Build a Child-Centric Foundation™'
Orlando, Florida (PRWEB) March 13, 2015
DaddyDockets.com, where the National Legal Leaderboard resides, has just been launched and, in addition to the all-new National Legal Leaderboard, has an abundance of community participation features including information on Family Law, videos, volunteer opportunities, affiliate programs, surveys, forums, and blogs for public participation.
The website's main attraction, 'The National Legal Leaderboard', allows every Family Law attorney and Expert Witness/Child Counselor in the nation to participate and co-mingle with each other to produce positive results for equality. Lawyers who register and activate their Legal Eagle Pro Lawyer Membership will be able to setup their own profile and to provide proven results for four main areas with regards to Paternity, Visitation, and Modification cases.
Expert Witnesses, mainly child and family counselors from around the nation, will also be invited to join and activate their own Expert Witness Memberships. Their benefits include profiles, forums, blogs and more – all the way up to offering live and telephonic courtroom testimonial services for educating the parties and the system on the importance of equality when it comes to visitation time for children.
When asked about where the vision for Daddy Dockets came from, founder Todd Shorthouse of Orlando, FL, replied, "After being in the system fighting as a ProSe litigant for over 49 hearings and 475 docket entries, I got an insider's view from an outsider's position of the system. After much research I tied the average number of docket entries per case to the number of Judges to the days in a year to average legal fees, it got me thinking 'Why on average do these cases take so little time and cost so much?'
The answer, Todd believes, is that the system does not provide the Judges with the tools to venture much further beyond a financial affidavit. Todd states. "If Family Law attorneys were enticed to pursue each case more vigorously while being armed with an abundance of Expert Witnesses on hand, they can start driving home the message that visitation equality is in the best benefit of the children," Todd says.
"Keep in mind that it is not just providing an enticement for lawyers to be recognized and procure a greater earning potential, it is also providing an enticement to help our children grow into better, safer, and more stable futures, and if that is the end result it can't be anything but good." he concludes.
About Daddy Dockets and the National Legal Leaderboard
Daddy Dockets and the National Legal Leaderboard is an online web-based platform that provides services and support for fathers, mothers, and children in the Family Law system, to connect Family Law Lawyers to Expert Witnesses, and to balance the scales for children's rights when it comes to visitation. It is headquartered out of Orlando, FL.
For more information about Daddy Dockets and the National Legal Leaderboard, visit their website, links, and other media that can be found at http://www.daddydockets.com and/or http://www.nationallegalleaderboard.com. Be sure to go social and 'Like' and 'Share' at facebook.com/daddydockets and on twitter @daddydockets.
###