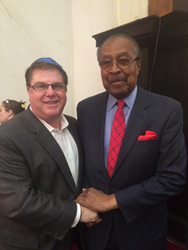 Greensboro, NC (PRWEB) March 11, 2015
Paul Mengert, president of Association Management Group and his son, Matthew Mengert, who attends the University of North Carolina, traveled from Greensboro to Selma, Alabama on Sunday, March 8 to join various community leaders in the 50th commemoration of the March.
Mengert said, "In our management of community associations, we work with communities and community leaders everyday urging tolerance and acceptance of all people...I believe the Selma March was a pinnacle point in our nation's history and we wanted to be part of it."
Mengert continued, "I was honored to participate with Rabbi Abraham Joshua Heschel's daughter and Martin Luther King's lawyer, Clarence Jones."
Association Management Group, which prides itself on high customer satisfaction, attributes much of their satisfaction to their ability to assist the Carolina communities they manage to provide quality customer service for all their members. Mengert noted historically, "Last weekend, a grateful nation marked the 50th anniversary of "Bloody Sunday." Thousands, including President Barack Obama, members of Congress, activists and others, recalled the brutal attack on peaceful protesters attempting to march across the Edmund Pettus Bridge in Selma that became the catalyst for the passage of the Voting Rights Act of 1965, but it also taught us to listen to all our constituents, not just the powerful."
With 6 locations in the Carolinas, AMG features state of the art management techniques as well as "hands on" customer service that have enabled AMG to obtain better than 98% overall customer satisfaction. AMG's unique and proprietary management systems allow them to offer a consistently higher quality of service than their competition. The six independent AMG companies manage condominium, townhome, and planned unit developments from their offices in Greensboro, Winston-Salem, Research Triangle Area, Asheville and Charlotte, North Carolina, and Greenville/Spartanburg, South Carolina. AMG's philosophy is simple: "Provide superior management performance at a competitive price."
About Association Management Group, Inc.: AMG offers assistance to community associations and their executive boards throughout the Carolinas. The firm has offices in Greensboro, Winston-Salem, Charlotte and Raleigh NC and Greenville and Aiken, SC. Effective community associations must have experienced management in order to protect the interests of residents within their community, and AMG is the company to provide such management. AMG is knowledgeable in enforcing community governing documents effectively, with a proven set of processes and techniques. AMG assists communities throughout the Carolinas with a broad range of services, which can be tailored to individual community needs. Association Management Group, Inc. is a locally Accredited Business by the BBB and is a nationally Accredited Association Management Company (AAMC) by the Community Associations Institute.
To learn more about Association Management Group, visit http://www.amgworld.com or http://www.hoacarolina.com.