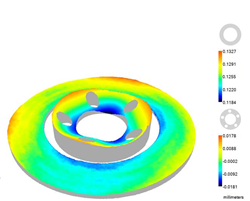 Ann Arbor, MI (PRWEB) March 11, 2015
Precision Manufacturing in the Braking Industry continues to advance in Japan with the purchase of a Coherix ShaPix by a prominent OEM. With their focus on braking safety, reliability and producing products exceeding their customer's expectations, the ShaPix system provides them with the ability to make significant product and process improvements.
The Coherix ShaPix is a high-definition 3D system that measures single or multiple, tiered surfaces on the same side with a simple setup. When Disc Thickness Variation (DTV) of a rotor is needed, reference surfaces are added to measure both sides at the same time. This coplanarity Information between surfaces is captured in minutes, not hours, and includes tools for analyzing the information. Full, multiple surface DTV analysis enables a better understanding of how the overall braking system functions.
When simulation is important, the ShaPix high-definition mesh can be converted to a format compatible with 3D simulation software. This provides development labs with the ability to take as built data and use it in their design models.
Coherix designs and delivers high-speed, high-definition, 3D metrology and inspection tools for product development and the management of manufacturing processes for the precision manufacturing and semiconductor industries. Headquartered in Ann Arbor, Michigan the company has technical centers in Europe and the Asia Pacific region. Coherix products are being utilized around the world at companies such as ASE, SPIL, Marvell, BorgWarner, Ford, Honda, Allison Transmission, Chrysler, General Motors, Micron, Infineon, John Deere, Volvo Technology Transfer and Aisin among others.