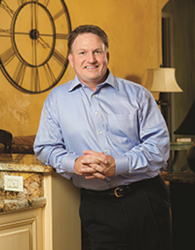 Fort Myers, FL (PRWEB) April 14, 2015
Florida Cancer Specialists & Research Institute (FCS) is one of the fastest growing healthcare organizations in the United States. Most of this growth has occurred under the leadership of CEO Bradley Prechtl, who recently marked his 6th anniversary with the company.
"When I joined FCS in 2009," Prechtl said, "we had about 65 physicians in the practice, 800+ employees and under 30 offices, located exclusively along the Gulf Coast. In the past five years, we have tripled in size to approximately 180 physicians, 2100 employees and over 80 locations throughout Florida. It's been extremely gratifying to help bring world-class cancer care to patients in so many new communities across the state."
Dr. William Harwin, Founder and President of FCS said, "Brad is an amazing leader. He works tirelessly to ensure that every facet of our company achieves its strategic goals and every employee delivers the highest quality services for our patients. Because of his expertise and financial acumen, Brad has been able to lead FCS through a very dynamic period in our company's history and establish the continued growth of our organization despite difficult challenges in the healthcare industry nationwide."
Prechtl joined FCS in 2009, bringing with him more than 20 years of physician practice management experience. He spent seven years as CFO and CEO of several PhyCor multi-specialty physician practices and seven years at US Oncology. He served as Executive Director of Practice Operations for Texas Oncology, President of Crozer Keystone Health Network and COO for Physician Oncology Services in Georgia and Indiana.
Prechtl graduated from West Virginia University with a bachelor's in accounting, obtained his license as a Certified Public Accountant (CPA) and earned his MBA from the University of Pittsburgh. In his early career, he spent three years as an auditor and consultant at Big 8 firms Arthur Andersen and Coopers and Lybrand.
In addition to serving as CEO, Prechtl is Chairman of the Board of the Florida Cancer Specialists Foundation, which provides non-medical financial assistance to qualified cancer patients in Florida. Also, he is a long-time volunteer with Big Brothers/Big Sisters and is active with the CEO Forum in Sarasota. Brad and his wife, Terri, are the parents of four children and lend their support to numerous charities and community endeavors throughout the state.
About Florida Cancer Specialists & Research Institute:
Founded in 1984, Florida Cancer Specialists & Research Institute (FCS) is the largest independent medical oncology/hematology practice in the United States. With over 170 physicians, 120 nurse practitioners and physician assistants and over 80 locations in our network, we are committed to providing world-class cancer care in community-based settings close to home. Recognized by the American Society of Clinical Oncology (ASCO) with a national Clinical Trials Participation Award, FCS offers patients access to more clinical trials than any private oncology practice in Florida. Our physicians are consistently ranked nationally as Top Doctors by U.S. News & World Report. Trained in such prestigious medical schools and research institutes as Duke, Stanford, Harvard, Emory, M.D. Anderson, and Memorial Sloan-Kettering, the physicians of Florida Cancer Specialists provide leadership and consultation in the state's leading hospitals. FCS serves patients on the Gulf Coast from Naples to the greater Tampa Bay area, north as far as Tallahassee, in Orlando and surrounding Central Florida communities, and on the East Coast in Daytona/Palm Coast, Vero Beach/Sebastian and Palm Beach County. At Florida Cancer Specialists, our primary purpose – and our passion – is to provide the most advanced cancer treatment, using cutting-edge technologies, in a setting where patients can be close to home and surrounded by family and friends.