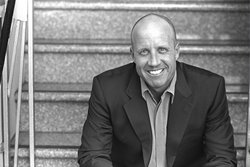 When clients realize they can experience joy and a sense of well-being without the use of alcohol or drugs, they are taking a big step forward in recovery.
RESEDA, California (PRWEB) March 17, 2015
Comedian Mark Lundholm, who has performed all across the United States and in several foreign countries, recently brought his highly entertaining "Shortcuts to Recovery" to clients at The Discovery House in Reseda. In his humorous presentation about the serious subject of recovery from substance abuse, Lundholm helps people realize that the road to wellness can be paved with a healthy dose of good humor. His presentation takes a whimsical look at the challenges faced by people in recovery, showing a compassionate understanding of substance abuse issues as well as the necessity to enjoy the healing powers of laughter. Lundholm, who has entertained individuals ranging from musicians and celebrities to convicted felons, supplied clients with a list of easy-to-remember slogans to help them in their healing process.
"Here are my shortcuts to recovery," Lundholm said. "Remember these, and you will have a strong shield against relapse. If you have to keep it a secret, don't do it. If it's already been done, don't keep it a secret. The argument you win is the one you never have. Life is not fair or unfair; you can choose to be either one. This is the last time you ever have to start over after relapse. A grateful addict will never relapse; find a way to gratitude. Profanity reduces credibility in early recovery; use better words." With these simple expressions, Lundholm offers wisdom in clear language and helps people in recovery to take charge of their own words, actions and attitudes. Lundholm, who has created a DVD series titled "Humor in Treatment," is passionate about helping people rediscover their sense of humor. He reveals his personal experience with finding the value of humor in recovery in an autobiographical play titled "Addicted: A Comedy Of Substance."
In the spirit of effective simplicity, Lundholm also posed a series of questions to his audience, in which he encouraged them to take a personal inventory of their feelings. He narrowed the wide range of human emotions into four categories: mad, glad, sad and afraid. He suggested that clients think about ways their feelings have driven their behavior, comforted them, and remained mysterious to them. Because people suffering from the disease of addiction use alcohol and drugs to cover their feelings, a method of self-discovery like this helps them understand their behavior so they can make healthier choices.
The Discovery House staff invited Lundholm to inform and entertain their clients for several reasons. They understand that the shared experience of humor helps relieve some of the shame and guilt associated with alcohol and drug addiction. They want to help clients to avoid taking themselves too seriously in order to relieve the self-absorption common in substance abusers. When clients realize they can experience joy and a sense of well-being without the use of alcohol or drugs, they are taking a big step forward in recovery. Laughter also benefits people on a physical level. It increases the level of endorphins in the brain, which are the body's natural antidotes for pain and stress and it helps in the recovery process.
About The Discovery House
The Discovery House is a residential drug and alcohol treatment center located in Reseda. The center offers sub-acute detox, a residential rehab program, and an outpatient treatment program. As a Joint Commission Accredited facility, The Discovery House offers clients the very highest standards of care. For more information about The Discovery House, visit http://www.thediscoveryhouse.com