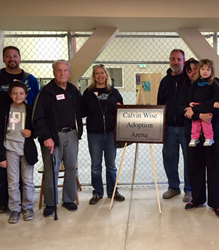 Lance handed us a check and said, "Go save more animals!"
Park City, Utah (PRWEB) March 13, 2015
On Sunday, March 8, 2015, Friends of Animals Utah honored 89-year old World War II veteran and Silver Star Medal recipient, Calvin Wise, in a dedication ceremony at the organization's Rescue and Rehabilitation Ranch in Park City, Utah. Friends of Animals Utah recognized Calvin Wise, and his family, for their lifelong love of animals and support of animal rescue by naming the Ranch's indoor adoption area The Calvin Wise Adoption Arena.
A few months earlier, on December 31, 2014, the family of 89-year old Calvin Wise, walked into Friends of Animals Utah's Adoption Center, Furburbia, and delivered a check in the amount of $30,000.00. The amount was significant enough to help Friends of Animals Utah not only meet their financial obligations for the year, but also to begin a new program that rescues animals from the Navajo Indian Reservation in the Four Corners Area of Utah.
Lance Wise and Cheryl Rauzon are the owners of Blue Collar Bobbers in Sandy, Utah. Lance, Calvin's son, said he wanted to honor his father, who has spent his life helping and caring for animals. They were compelled to help Friends of Animals Utah when they learned about the organization's rescue efforts in Utah and also its Purple Paw Program. Through this program, Friends of Animals Utah partners with domestic violence shelters and provides care, medical treatment, and safe shelter for the pets of victims of domestic violence fleeing abuse.
Born in Moab, Utah in 1925, Calvin Wise served in World War II as a medic. He was stationed on the island of Iwo Jima. During a fire on Imo Jima, he rescued and saved the lives of several men. As a result, he was honored with the Silver Star for his bravery and heroic action. Calvin married Ruth, also from Moab, Utah, and the two were married for almost 70 years until Ruth passed away in 2012. Calvin and Ruth had two sons: Lance and Phillip.
Lance recalls growing up and bringing home every stray cat he could find. At one time, when he was about 12 years old, he had over 9 or 10 cats living at home. And, that was just fine with Calvin and Ruth. Lance still believes in rescue and adoption and has rescued his two shelties. The family's dogs accompany Lance and Cheryl to work every day at Blue Collar Bobbers.
Sunday's ceremony was attended by the Wise and Rauzon families, members of the Board of Directors, volunteers, community members, employees, and several newly rescued puppies from Southern Utah (one little puppy was adopted by a family member). After the ceremony, the family presented Friends of Animals Utah with a second check in the amount of $30,000.00 with explicit instruction from Lance Wise to "go save more animals" and to continue their rescue efforts in rural Utah.
About Friends of Animals Utah
Friends of Animals Utah is a 501c3 nonprofit organization that rescues homeless and abandoned animals from city and county shelters from all over Utah. Animals receive medical attention, exceptional care and basic training at the Rescue Ranch and are then placed for adoption at Furburbia, the Adoption Center located in Park City, Utah. Each year, Friends of Animals Utah rescues and adopts between 800 and 1,100 cats and dogs. Since it began 25 years ago, over 13,000 lives have been saved.
For more information on Friends of Animals Utah, please visit our website: http://www.foautah.org
or contact:
Kathleen W. Toth
President, Friends of Animals Utah
Email: kathleen(at)foautah(dot)org
Telephone: 801.455.0223