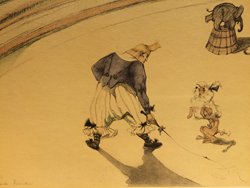 Dana Point, California (PRWEB) March 12, 2015
The Ritz-Carlton, Laguna Niguel Club Level has established itself by providing exceptional customer service personalized for each guest and now guests staying on The Club Level have the exclusive opportunity to experience an exhibit featuring the works of Henri de Toulouse-Lautrec. The exhibit, on loan from Galerie Moderne, will be on display in The Club Lounge April 2 through September 30, 2015.
Toulouse-Lautrec is among the best-known painters of the Post-Impressionist period, a group which includes Cézanne, Van Gogh and Gauguin. His works are portrayals of aristocratic society – Parisian high life. An illustrator, he became famous for his depictions of Moulin Rouge, Operas and Cabarets, and his works appeared in the famous magazine, "The Chap Book." Throughout his career, which spanned less than 20 years, he created 737 canvases, 275 water colors, 363 prints and posters, 5,084 drawings, and some ceramic and stained glass work. In a 2005 auction at Christie's auction house, a new record was set when La blanchisseuse, an early painting of a young laundress, sold for $22.4 million
Guests can enjoy the Toulouse-Lautrec exhibit and extend their stay with the Treat You package. Starting at $875 per night, the Treat You package includes accommodations on The Club Level and one complimentary night when guests stay four nights.
Galerie Moderne is devoted to promoting the appreciation of Modern and Contemporary art by hosting exhibitions within the public forum. The gallery is home to an innovative and pioneering collection which covers an array of mediums, genres and artists.
The Ritz-Carlton, Laguna Niguel continues to redefine guest experiences by creating distinctive, unforgettable and Epic Memories. Throughout 2015, the resort is highlighting 52 Bucket List experiences for guests to enjoy while visiting the oceanfront resort and standing in awe of an original Toulouse-Lautrec is one of them. An epic experience will be added to the #BucketList each week via the resort's social media channels including Facebook and Twitter. Guests are invited to follow the Bucket List through #RCMemories #BucketList and are invited to share their Bucket List ideas.
About The Ritz-Carlton, Laguna Niguel
Perched atop a seaside bluff with panoramic views of the Pacific Ocean and miles of sandy beach, The Ritz-Carlton, Laguna Niguel continues to redefine guest experiences by creating distinctive, unforgettable and epic memories. With a reimagined personality and playful approach to California luxury, the resort captivates guests from the moment of arrival with its awe inspiring location. Located halfway between Los Angeles and San Diego along the coast of Dana Point, guests discover a surfside retreat that awakens the senses with its unique beachfront setting and remarkable service heritage. For reservations call 800-241-3333, the hotel directly at 949-240-2000, a travel professional or visit http://www.ritzcarlton.com/LagunaEpicMemories
About The Ritz-Carlton Hotel Company, L.L.C.
The Ritz-Carlton Hotel Company, L.L.C., of Chevy Chase, Md., currently operates 88 hotels in the Americas, Europe, Asia, the Middle East, Africa, and the Caribbean. More than 30 hotel and residential projects are under development around the globe. The Ritz-Carlton is the only service company to have twice earned the prestigious Malcolm Baldrige National Quality Award which recognizes outstanding customer service. For more information or reservations, visit the company web site at http://www.ritzcarlton.com, and for the latest company updates, visit news.ritzcarlton.com. The Ritz-Carlton Hotel Company, L.L.C. is a wholly-owned subsidiary of Marriott International, Inc.