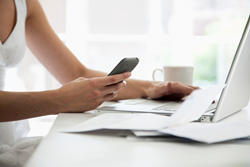 When a patient registers online, we can expedite their visit to make it much more convenient and easy
Brookfield, CT (PRWEB) March 18, 2015
When patients seek healthcare for minor or serious ailments, they often face frustration related to lengthy check-in processes involving necessary but substantial paperwork. To ease this burden, PhysicianOne Urgent Care recently unveiled an online check-in platform that allows patients to conveniently prepare for their visits in advance, using either their computers or their mobile devices.
With this intuitive online registration option, patients can input key information that allows them to avoid spending unnecessary time in the clinic filling out forms. According to Caroline Kolompar, Chief Marketing Officer of PhysicianOne Urgent Care, this innovative service allows patients to complete paperwork in a more streamlined fashion. Essentially, once they've checked-in online they just need to show up to the clinic, let the front desk know they are there, and wait to see the provider.
"When a patient registers online, we can expedite their visit to make it much more convenient and easy," Ms. Kolompar said. "In fact, once they arrive, it's basically just a matter of verifying who they are in order to see the provider, since we already have most of the information needed in our system."
In addition to its online registration platform, PhysicianOne Urgent Care also allows patients to download and print forms, which they can fill out at home and bring when they visit. This versatility makes PhysicianOne Urgent Care an especially convenient source for reliable, top-tier medical attention for people who are on the go.
About PhysicianOne Urgent Care
Established in 2008, formerly operated under the name Urgent Care of Connecticut, PhysicianOne Urgent Care is doctor owned and operated. As the first urgent care clinic in Connecticut to be accredited and certified by the Urgent Care Association of America, and accredited by The Joint Commission, PhysicianOne Urgent Care takes great pride in its practice of evidence based medicine; its patient first philosophy; providing a cost effective alternative to the Emergency Room; and being a convenient alternative to primary care physicians during off or peak hours. PhysicianOne Urgent Care provides walk-in treatment for a wide array of illnesses and injuries. On-site services include x-ray, lab services, and a medication dispensary.w
All locations are open 365 days a year. Experienced doctors are on-site at all times. Most insurances and Medicaid accepted. For more information, please visit http://www.physicianoneurgentcare.com.