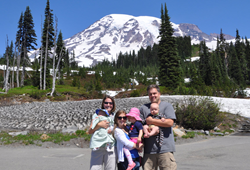 Having an inquisitive, energetic, and smart 24-year old as part of our family has been intellectually stimulating and a true cultural exchange.
San Francisco, CA (PRWEB) March 11, 2015
AuPairCare, the leading au pair agency that provides affordable live-in child care services to American families, is proud to announce the 2014 Ultimate Au Pair is Mayara Da Silva Bertoli from Brazil. Mayara resides in the San Francisco Bay Area with her host family, the Benassinis, where she cares for their 3 year old daughter and 1 year old twin boys.
AuPairCare's Ultimate Au Pair Contest is held annually and invites families across the country to nominate their au pair. Thousands of votes were cast throughout the country and the world, with Mayara securing the spot as the nation's Ultimate Au Pair.
Mayara is from a small town in Brazil and later moved to Rio de Janeiro where she obtained her college degree, majoring in Economics. In late 2013 she decided to come to the USA as an au pair to pursue her passion for childcare, learn a new culture, share her own Brazilian culture with Americans and improve her English skills. Mayara will spend one more year in California with her host family before returning to Brazil to study for her Master's degree.
Mrs. Benassini, Mayara's host mother, nominated Mayara for this award because of her "protective, creative, tireless, and above all, loving" approach to caring for her host children. From the start, the family and Mayara established quick bonds and together welcomed the challenge of caring for 3 kids under the age of 4.
AuPairCare established the Ultimate Au Pair Award to recognize the hard work and achievements of the many great au pairs participating in its au pair program. The award honors au pairs who are dedicated child care providers and offer an awe-inspiring amount of support to their host family. Mayara was selected out of nearly 100 compelling and heart-warming submissions from AuPairCare families across the U.S. regarding their positive experience hosting an international au pair.
The original essay by the Benassinis nominating Mayara is available at http://www.aupaircare.com/stories/meet-aupaircares-ultimate-au-pair-winner-mayara-brazil, along with stories of past au pair winners and participants.
AuPairCare is a leading au pair agency providing affordable live-in childcare services to American families since 1989. Designated by the U.S. Department of State, AuPairCare offers superior childcare to fit families' unique needs. AuPairCare has matched more than 55,000 au pairs with American families across the U.S. AuPairCare is a division of Intrax, a family of organizations that provide a lifetime of high quality educational, work and volunteer programs that connect people and cultures. Intrax is headquartered in San Francisco with offices on four continents. For more information about AuPairCare, call 800-428-7247 or visit http://www.aupaircare.com.