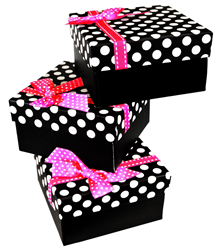 The new Sublime Sampler allows customers to test drive nine different products.
St. Petersburg, FL (PRWEB) March 11, 2015
This week, Sublime Beauty® introduces its newest product.
"Our Sublime Sampler is now available," says Kathy Heshelow, founder of Sublime Beauty®. "It includes nine Sublime products to delight. This allows newcomers to test the products before committing, and allows loyal clients to have travel sizes."
The box includes:

COLLAGEN PEPTIDE SERUM with Matrixyl, a light serum to moisturize and boost collagen (bottle).
RETINOL SERUM WITH VITAMIN C for use at night to repair skin (jar)
HYALURONIC SERUM to plump and bring deep hydration and a glow (bottle)
GLYCOLIC SERUM to brighten skin, lightly exfoliate, minimize pores (bottle)
COLLAGEN ANTIOXIDANT MASK is spa quality and weekly or twice monthly treat to take skin to the next level (jar)
LUXURIOUS FACIAL OIL also improves well-being of hands and neck; 5 pure organic oils include Grapeseed, Avocado, Jojoba, Macadamia, Tamanu and Noni (bottle)
SPF 30 VITAMIN C DAY CREAM for sun protection and moisturization of skin. Vitamin C is a powerful ally and antioxidant as well (jar)
CELLULITE WHISPERER® GEL and CELLULITE WHISPERER® LOTION. The 1-2 punch to reduce cellulite and improve skin
Heshelow says the company put the sampler together at the request of numerous clients. "Many of our clients are introducing quality Sublime Beauty® to their friends and family, and asked if we could come up with some samples to make it easy and fun," says Heshelow.
The boxes are available now on Amazon, or on the Sublime Beauty webstore.
ABOUT: Sublime Beauty® is a French-inspired quality skincare company that focuses on products to Age Well. Ingredients help to boost collagen, hydrate, relax wrinkles and improve skin. A niche includes healthy Skin Brushes. The company webstore offers free standard shipping and a VIP Club. Sign up for Secret Sales on the site. Products also available on Amazon.