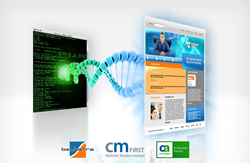 "Customers look for modernization solutions that avoid the need for costly and lengthy training," said Bertrand Gambet, Technical Director, Belharra.
Austin, TX (PRWEB) March 12, 2015
On March 24, 2015 at 11AM EST, CM First, CA Technologies and Belharra will offer "Rapidly Modernize CA 2E Enterprise Models to CA Plex," a one-hour webcast featuring a customer success story in CA 2E modernization. CA 2E customer and international food distributor, ets Dupouy-SBCC, will share how this company was able to modernize and rehost a CA 2E-based ERP system to CA Plex, Web, Java and Linux without the need to develop expertise in Java or Web.
"Customers look for modernization solutions that avoid the need for costly and lengthy training," said Bertrand Gambet, Technical Director, Belharra. "Most also would prefer not to screen scrape. The need to offer a rich web and mobile presence drives companies to look for help. CM First can craft modernization strategies that will up-level aging CA 2E systems quickly and with quality."
The new web application delighted the end users and yet, didn't significantly increase the complexity of systems maintenance. The flexibility is such that the application can now be deployed to any platform, extending it to both web and mobile devices.
CA Technologies, CM First and systems integrator, Belharra collaborated on the project using the CM M3 (Model-Based Modernization Methodology) technology to achieve the desired results. CM M3 preserves the CA 2E model design while deploying all business logic onto a modern Java client architecture and ARAD (architected rapid application development) development platform, increasing the flexibility and adaptability of the legacy code. During the webcast, CM First's CTO, John Rhodes, will explain the technology behind the success of this project. To learn more about the CM M3 methodology, go to:
http://www.cmfirstgroup.com/initiatives/ca-2e-to-ca-plex/. More details are available in the Solution Brief: http://www.cmfirstgroup.com/resources/future-proof-2e-applications/
Line up questions and register now at: https://attendee.gotowebinar.com/register/7979802760336532481. After registering, a confirmation email will be sent with information on how to join the webinar. Put the date on your calendar today.
About CM First Group
CM First is a global software and services company with focus on application modernization, custom development of enterprise applications that support high-performing, and agile development teams in three key areas: Application Modernization for IBM Environments, Custom Application Development Architected and Agile, Tools and Technology for Future Development.
About Belharra
Belharra was created in April 2006 in Biarritz (France). Specialized in digital services, it offers its expertise in two domains: the integration of IT services for modernization including mobility and collaborative internet; and the edition of e-SCM, a Supply Chain Management solution specialized for the textile industry. The company employs 30 people and had an annual revenue of 3 M€ in 2013. Its customers are mainly enterprises from Mid-Market in France. Main references include Armor Lux, RIP CURL, Billabong, Eden Park, Petit Bateau (textile industry); CCI Poitou-Charentes, CHPF (French Polynesia Hospitals), FNTP, Mairie de Bayonne, Tisséo (Toulouse Transportation), Promologis (public service); LIEBHERR, Eurolines, Sport2000, Intersport, GIFI, Groupe FAYAT (BTP), Hammel Robinetterie, SBCC Dupouy (Import/ Export), EDD (Press on line platform) (industry and trade); Lindt, Jacquet & Brossard, Mericq, Groupe coopératif ARTERRIS, Domaines Barons de Rothschild )food industry).