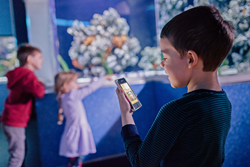 "We're using Beacon technology to put our guests in a more active role during their time with us," said Tennessee Aquarium senior educator Thaddeus Taylor.
Chattanooga, Tennessee (PRWEB) March 12, 2015
When Tagged Animals Play Tag With Kids
Tennessee Aquarium Unveils High-Tech Animal Tracker Program Using Beacon Technology
Scientists, like the researchers at the Tennessee Aquarium Conservation Institute (TNACI), employ various technologies to monitor the health of wild populations and measure the success of restoration efforts. Almost microscopic wire-coded tags implanted in Aquarium-reared Southern Appalachian Brook Trout and sonic tags that broadcast the underwater whereabouts of reintroduced Lake Sturgeon, provide a wealth of information about TNACI's freshwater conservation efforts.
Other biologists around the world use powerful electronics to monitor the movements of everything from sharks and sea turtles to Polar Bears and even the amazing journeys of the Wandering Albatross. So right now it's an exciting time to be a scientist tracking animals from around the world – whether on land, overhead or under water.
Starting March 12th, kids who visit the Tennessee Aquarium during spring break can dive into the role of High-Tech Animal Trackers with their families trailing some rare, threatened or rarely seen animals. Powered by tiny transmitters called Beacons, the Tennessee Aquarium is the first aquarium to utilize this new technology.
In the Aquarium's mobile optimized adventure, a team of wildlife biologists is seeking the help of young citizen scientists to observe animal behavior and collect data. While exploring the Aquarium's two buildings, kids will receive notifications when they are approaching the habitats of "tagged" animals. In River Journey, herpetologist Ana Conda may ask you to observe Giant South American River Turtles. In Ocean Journey, entomologist Olive Buggs could give you the task of identifying a specific butterfly species. Or, ichthyologist Finn Skales may need your help observing a colorful endangered fish species. "We're using Beacon technology to put our guests in a more active role during their time with us," said Thaddeus Taylor, one of the Aquarium's senior educators. "I'm excited about adding another layer to our experience, one with a game-play feel that increases learning about our animals because it's so much fun."
Beacons allow mobile apps to understand their position with tremendous accuracy. By using Bluetooth Low Energy technology, information can be transmitted over short distances. Guests opt-into the program by first downloading the free Tennessee Aquarium app. Once device settings allow Bluetooth connections and push notifications, they're ready to begin tracking. "It's exciting to be on the forefront of this new technology, creating some engaging content for our guests," said Taylor.
Equally excited are the co-founders of CloudBeacon, the Chattanooga-based technology company that developed the magic behind the scenes of the High-Tech Animal Tracker Program. Co-Founders Justin Junda, Jason Provonsha and Peter Van de Put launched CloudBeacon as a full-service company specializing in mobile app development and Beacon strategies, and CloudBeacon is a company within Chattanooga-based LPG Lab, the start-up studio of Lamp Post Group. The retail sector may have been the first industry to adopt beacons, but Junda, Provonsha and Van de Put are poised to use their content management system to light up tourism with many more engaging experiences like the one they are launching with the Aquarium. "We have some pretty lofty goals about how to bring beacons to this city and many others," said Junda. "Chattanooga is developing quite a reputation as a technology hub and we are glad to be a part of that growing reputation. The Aquarium project is a great test case as we continue to expand."
Because content on the CloudBeacon platform is easily changed, the Aquarium has plans to offer new beacon programs at different times throughout the year. Taylor is already looking forward to creating new fun and inspirational themes. "I hope this alters the way our guests look at animals," said Taylor. "So that even after they leave the Aquarium, there is a long-reaching effect of creating a desire to closely observe the wildlife around us rather than simply noticing the animals."
Ready to become a High-Tech Animal Tracker? Download the free Tennessee Aquarium app from the iTunes Store or Google Play.
###
The Tennessee Aquarium inspires wonder, appreciation and protection of water and all life that it sustains. Admission is $26.95 per adult and $16.95 per child, ages 3-12. Each ticket purchased helps support Aquarium conservation programs. The IMAX® 3D Theater is next door to the Aquarium. Ticket prices are $9.95 per adult and $8.50 per child. Aquarium/IMAX combo tickets are $32.95 for adults and $22.95 for children. Excursions aboard the new River Gorge Explorer depart daily into "Tennessee's Grand Canyon." Cruise tickets are $32.00 per adult and $24.50 per child (3-12). Advance tickets may be purchased online at http://www.tnaqua.org or by phone at 1-800-262-0695. The Aquarium, located on the banks of the Tennessee River in Chattanooga, is a non-profit organization. Open every day except Thanksgiving and Christmas, the Aquarium and IMAX are accessible to people with disabilities.
ONLINE press kits & downloadable images: http://www.tnaqua.org/News/Newsroom.aspx
About LPG Lab
The LPG Lab is a start-up studio focused on the research and development of new consumer-facing technologies. Aiming to disrupt common industry assumptions, the company focuses on developing applications that change the way consumers move through their everyday lives by solving common problems with new, intuitive solutions. The lab adopts a test-and-deploy approach, allocating resources to ideas according to proven consumer traction, revenue generation, or identifiable success metrics. This allows the lab to test the market and build companies around the most viable products. Headquartered in Chattanooga, TN, LPG Lab is part of the Lamp Post Group, a venture incubator bringing funding and support to the best teams with the brightest ideas capable of changing the world. For more information, visit http://www.lamppostgroup.com.
Contact: Thom Benson 423-785-3007