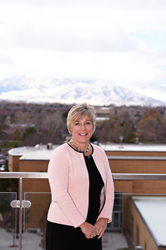 Taylorsville, Utah (PRWEB) March 11, 2015
Salt Lake Community College President Deneece G. Huftalin will be honored Saturday by the American Association of University Women (AAUW) with the Distinguished Woman Award.
The Salt Lake City branch of the AAUW gives the award each year to "an outstanding woman in the community who exemplifies the mission of AAUW," which advances equity for women and girls through advocacy, education, philanthropy and research. Huftalin was sworn in last January as SLCC's eighth president.
Salt Lake Community College is an accredited, student-focused, urban college meeting the diverse needs of the Salt Lake community. Home to more than 60,000 students each year, the College is Utah's leading provider of workforce development programs. SLCC is also the largest supplier of transfer students to Utah's four-year institutions and a perennial Top 10 college nationally for total associate degrees awarded. The College is the sole provider of applied technology courses in the Salt Lake area, with multiple locations, an eCampus, and nearly 1,000 continuing education sites located throughout the Salt Lake Valley. Personal attention from an excellent faculty is paramount at the College, which maintains an average class size of 20.