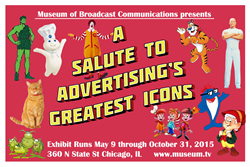 Chicago, IL (PRWEB) March 11, 2015
They are as familiar as television's top stars, each transcending the small screen to become a pop culture icon. In an unprecedented event, they will now share the spotlight together in Chicago.
In a first-of-its-kind exhibition in Chicago, the Museum of Broadcast Communications will present "A Salute to Advertising's Greatest Icons," running from May 9 through October 31. Among the "30-second stars" and brands being showcased during the exhibition are General Mills' Pillsbury Doughboy and Jolly Green Giant; Kellogg's Tony the Tiger (Frosted Flakes); Snap, Crackle & Pop (Rice Krispies) and the Keebler Elves (Keebler); McDonald's Ronald McDonald; Procter & Gamble's Mr. Clean; 9 Lives' Morris the Cat, StarKist's Charlie the Tuna and S.C. Johnson's Raid Bugs.
A Salute to Advertising's Greatest Icons will examine the creation and evolution of the characters from their inception to contemporary use, through commercials, vintage print ads and packaging, and a wide variety of character memorabilia. Advertising agencies and brand historians will describe how the characters were designed and how they have evolved over the years.
"Historically speaking, television has been the premiere stage for some of the nation's most revered advertising characters," said Bruce DuMont, Founder/ President of the Museum of Broadcast Communications. "These beloved characters helped define many of the world's top consumer brands, and each has become synonymous with their brand in commercials, print ads, packaging and on grocery shelves."
Each advertising icon will be showcased its own "special week" throughout the exhibition, featuring character appearances, look-a-like contests, tastings, Facebook photo opportunities and other special consumer promotions. The Advertising Icons Exhibit will be designed by luci Creative of Lincolnwood, IL.
"No media research institution can ignore advertising and the significant influence it has had on television, nor can it down play the importance of branding a sponsors message," said DuMont. "The Museum of Broadcast Communications seeks to underscore that connection and focus attention on the agencies, most from Chicago, who created and developed the lovable and memorable characters that helped define these brands."
A VIP Exhibition Opening Reception will take place on Friday, May 8 at 5:30 PM in the Museum's new Paul M. Lisnek Gallery. VIP Tickets are $150 for the reception and awards presentation. Tickets to the awards presentation only are $75. All tickets are available online at http://www.museum.tv. The VIP Exhibition Opening Reception and awards program is a benefit for the Museum, with all proceeds dedicated to expanding its advertising educational services.
About the Museum of Broadcast Communications
The Museum of Broadcast Communications collects, preserves, and presents classic and contemporary radio and television content and commercials. Its mission is to educate, in-form, and entertain the public through its archives, public programs, screenings, exhibits, publications and online access to its massive resources. To learn more about the Museum, log on to http://www.museum.tv.