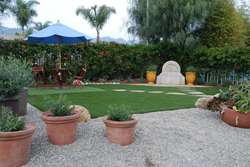 Sometimes the cutting edge isn't what you think it's going to be. Bronze is from another age but still renders amazing forms and who would have thought that artificial grass would show up at Eye of the Day.
Santa Barbara, CA (PRWEB) March 10, 2015
Eye of the Day Garden Design Center is hosting an Art in the Garden and Water Conservation Weekend. As homeowners, landscapers, and designers alike prepare gardens for the season, Eye of the Day will be holding a three-day event Thursday-Saturday, March 19-21, illustrating the ways to add new life to your home or garden.
Known for their inventory of beautiful and classic European and American pottery, Eye of the Day also carries an extensive collection of statuary. This includes pieces by internationally recognized sculptor Bobbie Carlyle who casts her pieces in bronze and executes strong and bold designs with "subjects [that] range from figurative to liturgical, wildlife to western, in sizes from maquette to monumental." Carlyle's work is displayed in both private and public collections; her most recognizable work is 'Self Made Man'—a figure carving himself out of stone. She recently installed a piece in Los Angeles called 'Seaswept' at one of the entrances of the new Robert F. Kennedy Inspiration Park, the former site of the Ambassador Hotel. Carlyle will be sculpting a new piece over the course of the three-day event at Eye of the Day.
As the drought continues in California, sustainable alternatives to water-thirsty lawns become more important. Founded by Thierry Fraye, landscape services company Paysage Inc. has recently introduced Verdure, a beautiful line of artificial grass products. Durable and requiring low maintenance, this lush and realistic grass substitute is a new option for homeowners and designers wanting to keep the look of a lawn but conserve water. Fraye and his team will be at the event to answer questions about the permanent display of synthetic turf that was recently installed at Eye of the Day.
The Art in the Garden & Water Conservation Weekend will feature additional speakers on eco-friendly practices for the garden and raffles for gift certificates and outdoor patio furniture. This will be a perfect opportunity to learn about the artists and professionals that work with Eye of the Day and possibly bring something new to your landscape.
About Eye of the Day Garden Design Center
Eye of the Day Garden Design Center is a retail showroom that features more than an acre of high quality garden landscape products, including Italian terracotta pottery and fountains, Greek terracotta pottery, French Anduze pottery, and garden product manufacturers from America's premier concrete garden pottery and decoration manufacturers. Eye of the Day is a leading importer and distributor of fine European garden pottery, and caters to private consumers, as well as landscape, design, and architecture firms from around the world.
For more information, please visit Eye of the Day Garden Design Center at http://www.eyeofthedaygdc.com or call 805-566-6500.