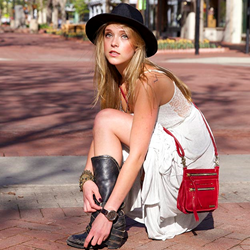 "The Tasca Bag gives you everything you're looking for in a cross body bag as well as the ability to wear it as a hip bag clipped to your belt loops. I just love wearing it- it's so comfortable I sometimes even forget I have it on!" Stephanie Boyles
Los Angeles, CA (PRWEB) March 11, 2015
Stephanie Boyles & Scott Schaefer created Embrazio with a simple but very appealing concept in mind … "develop authentic high quality leather accessories that include design elements addressing the needs of a modern lifestyle." Whether it's the leather lined exterior smartphone sleeve on their Tasca crossbody bags, their patented "Curva" curved belts or the single-handed nipple rivet closure on their cell phone cases, this duo understands how to take the classic and add modern convenience.
The Embrazio product line includes handbags, belts, and phone cases that are perfect for everyday wear. Stephanie & Scott carefully select all the materials that go into making their products. Each item is constructed of the highest quality leather and is handmade by expert leather craftsman in Leon, Mexico, the recognized epicenter for leather products in the western hemisphere. For example, the new Viaggi Tote from Embrazio features soft and supple leather from an Italian factory that relocated its entire operation from Italy to Mexico several years ago. This allows Embrazio to offer the equivalent of a $600-$800 Italian leather bag for less than $300. Traveling frequently between Boulder and Leon, the creators also make a point to personally oversee manufacturing and are constantly on the lookout for new factories, designers, and craftsman that can help in continuing to raise the bar.
The Tasca Crossbody Bag – Prototyped more than 20 times prior to production, this is already being called the "perfect crossbody bag." The Tasca features supple sheepskin leather that is designed to hug the body for a comfortable fit. Adjustable and removable straps allow for a customized fit and the versatility to attach the innovative clips on the handbag to your belt loops for strapless wear. Stylish and practical, the Tasca comes in ten different color selections with nickel or antique brass hardware.
Curved Belts - It's important to have the perfect belt and Embrazio brings you the first fundamental improvement in belt design in the past hundred years. Available in four basic styles with lots of color choices, Embrazio's curved belts are shaped to fit the natural contours of your body, slightly moving down in front and back while coming higher over your hips. The result is a look, fit and feel that's noticeably better than straight belts. Customers comment that the "Curva" prevents the usual gapping in the back that occurs with jeans or pants when worn with a traditional belt. Embrazio was awarded a patent for this elegant design in January of this year, and are certain this natural design may just make straight belts obsolete.
Cell Phone Cases – Nearly the only line of all leather phone cases that fit all but the very largest smart phones, Embrazio's "Satchelita" leather phone cases feature single-handed retrieval and replacement of your phone. Beyond convenience, this feature eliminates the need to look down or use two hands, a big safety benefit as well. The phone cases come in four different colors in two different styles and include two inside leather sleeves to enable you to go hands-free with essentials such as your smart phone, credit cards, driver license, and money.
In addition to these well-received products, Embrazio has just rolled out its luscious line of Viaggi Totes and plans to introduce a clutch, a larger version of the Tasca crossbody bag and a messenger bag later this year.
Get ready to experience an accessory line unlike anything you have ever seen before. If you love the look and feel of high quality leather then mark your calendars, because the Embrazio collection will make its unforgettable debut in the United States during March, 2015. To find out more information about the products and accessories that Embrazio is bringing to the marketplace, please visit the company's official website at Embrazio.com.
The company is also making its presence known on various social networking sites at Facebook, Pinterest, and Instagram
Press Inquiries
Frame Public Relations
Jody(AT)frame-pr.net
917 292 7070