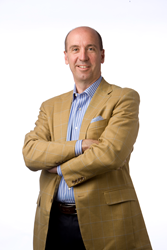 The nature of how power is being produced, distributed and consumed is changing and so must we
San Diego, CA (PRWEB) March 11, 2015
When it comes to the future of energy, futurist Jack Uldrich says, "The nature of how power is being produced, distributed and consumed is changing and so must those who run the industry."
"The world is going to change tomorrow--this is certain," says Uldrich. "If people don't pick up on these subtle changes, they'll end up locked up, inflexible and potentially out of business. Technology is going to require the energy industry to be nimble and adaptable in order to steer themselves into the future."
Uldrich is slated to address the National Fluid Power Association's Annual Conference in San Diego tomorrow, March 12th. According the NFPA, "Fluid power is a term describing hydraulics and pneumatics technologies. Fluid power has the highest power density of all conventional power- transmission technologies."
Uldrich will deliver his keynote, "The Big AHA: How to Future-Proof Yourself Against Tomorrow's Trends, Today." He will discuss a variety of technological advancements that will impact the fluid power industry such as wearable technology that will to control and automate smart homes to optimize energy efficiency, 3-D manufacturing, mobile computing which will reduce the need for physical stores, reducing real estate and energy costs, nanotechnology, robotics, sensors, and supercomputers.
Uldrich, a highly acclaimed futurist and public speaker whose aim is to help the NFPA and their member companies thrive in increasingly competitive energy markets. Uldrich has worked with a number of companies and dozens of trade associations in the utility industry. Some of his recent keynotes have been delivered at ABB's recent product launch tour on sensors, the CleaResults Energy Summit, Western Energy Institute, Southern Company, SDG&E, SMUD, Eaton, BP, the National Rural Electric Cooperative Association, Missouri River Energy, Northwest Energy, Idaho Power and the Northeast and Northwest Public Power Associations.
Parties interested in learning more about him, his books, his daily blog or his speaking availability are encouraged to visit his website. Media wishing to know more about either the event or interviewing Jack as a futurist or trend expert can contact Amy Tomczyk at (651) 343.0660.