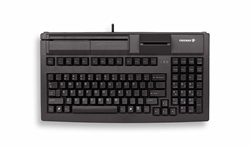 (PRWEB) March 11, 2015
The new CHERRY G80-7040LUVEU-2 keyboard is ideally suited for any security minded organization, as well as small to large retail operations, which require a secure and long lasting keyboard to handle standard credit cards and the new smart chip cards for both payment and access.
The keyboard combines the ability to work with the standard three-track Magnetic Stripe Reader (MSR) card swipe, and a customer facing PC/SC EMV Level 1 smart chip card reader compatible with ISO 7816 cards. Under the keycaps you will find the world famous CHERRY MX Keyswitches, rated at 50 million actuations to ensure a long lifetime for the keyboard.
The keyboard includes 43 reprogrammable keys and features a 15" form factor. The smart card reader ensures 200,000 card insertions and includes a MSR that will handle one million swipes. The MSR provides you with the ability to work with legacy credit cards, while the smart chip card reader enables you to work with the new smart chip credit cards.
The G80-7040LUVEU-2 features CHERRY Tools software for easy key programming as well as the ability to work with UPOS software. This new keyboard comes with a 3-year warranty and is available from authorized CHERRY distributors and resellers.
For more information, visit http://www.cherrycorp.com/cid or call 262-942-6500.
Evaluation units can be made available to qualified recipients by contacting Russell MacKenzie, Product Marketing Manager. Please refer to his contact information below.
About CHERRY
CHERRY, a registered brand of ZF Friedrichshafen AG, provides high-performance sensors, standard and custom electrical switches, and computer input devices for the worldwide automotive, computer and consumer/commercial OEM markets.
About ZF Friedrichshafen AG
ZF is a worldwide leading automotive supplier for drive line and chassis technology with 121 production sites in 27 countries.
Press Contact
Russell MacKenzie
Product Marketing Manager
262-942-6508
russell.mackenzie(at)zf(dot)com