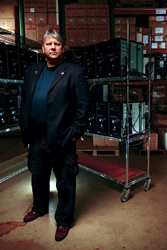 We have a proven track record of delivering the highest quality technology and streamlining the procurement process for government agencies.
CHICAGO (PRWEB) March 12, 2015
Ace Technology Partners, one of the leading technology builders and resellers in the U.S., just announced that they will be exhibiting at a series of upcoming U.S. Air Force Base Tech Expos in order to fully leverage their NETCENTS 2 contract with potential NETCENTS 2 purchasers.
Products that Ace Technology Partners is authorized to sell through NETCENTS 2 include servers, storage, networking equipment, peripherals, multimedia, software, and identity management/biometric hardware and software.
There are a total of 24 upcoming single-day shows that will be held on Air Force bases throughout the U.S. Since May and June are usually the most important procurement months for the USAF, shows are concentrated in April and May. During those months, Ace Technology Partners will be exhibiting at the following Tech Expos; Peterson AFB, April 14; Schriever AFB, April 16; Scott AFB, May 13; Kirtland AFB, May 20; and Los Alamos AFB, May 21.
Ace Technology Partners' CEO John Samborski said, "Although we have already been working with many of the people who attend these shows, we do want to get the word out to everyone else that we are a NETCENTS 2 Prime Contract holder. We have a proven track record of delivering the highest quality technology and streamlining the procurement process for government agencies."
Ace Technology Partners' manufacturers include some of the leading names in the technology industry such as: APC, Avocent, Brocade, Ciphertex, Commvault, Fujitsu, Nexsan, Nimble Storage, Mellanox, Panasonic, Quantum, Relm Wireless, and Server Technology.
NETCENTS 2 is the USAF's main source of IT products, services, and solutions. It serves as a vetted and approved source for federal agencies, including the Department of Defense, to purchase standardized networking equipment, supplies and related services. The total value of the seven-year NETCENTS 2 contract is more than $24 billion.The full schedule is available as a LinkedIn Update.
Acknowledged as the best custom technology manufacturer and reseller, Ace Technology Partners is a Woman-Owned Small Business operating in both the public sector and commercial sector. Its channel partners include Intel, Supermicro, NVIDIA, Mellanox and Samsung among others. The company has been an industry leader since 1983. In addition to some of the finest academic institutions in the U.S., long-term clients include the U.S. Department of Energy and the U.S. Department of Defense. Its principal, recognized industry expert John Samborski, is an alumnus of Intel's prestigious board of advisors. In addition to its Greater Chicago headquarters, Ace Technology Partners has locations in New Jersey, Pennsylvania and Virginia. To contact Ace Technology Partners, call 1-877-223-2667 or 1-847-952-6900 or visit http://www.acetechpartners.com.
###
For media inquiries, contact Jeanna Van Rensselar at Smart PR Communications;
630-363-8081; jeanna(at)smartprcommunications(dot)com.