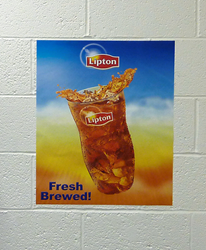 MagiCling is simple to install, just peel and stick, reposition at any time without any residue. It's a wonderful product for short term display of posters, flyers, and announcements.
Chicago, IL (PRWEB) March 18, 2015
Sunrise Hitek is now making posters on MagiCling, the unique material that allows posters to stick to virtually any surfac e https://www.sunrisehitek.com/product/magicling. This thin 2-mil white film adheres to many different surfaces: painted drywall, office doors, glass windows, wooden counters, cinderblock walls; basically any flat surface. MagiCling is simple to install, just peel and stick, repositionable at any time without any residue and no adhesive. For an inside facing out application, the image side can cling to glass windows. The secret to this material is that it is electrostatically charged to cling to virtually any flat surface.The material is great for short term display of a few weeks, and can be recharged for longer term display.
With Sunrise's digital die-cutting capability, posters can be cut to any shape, at any size, using an electronic die line. Since a physical die is not required, this workflow brings affordability and efficiency to every project. An optical registration system ensures unsurpassed accuracy and amazing intricacy during cutting.
Sunrise Hitek is a G7 Certified Master Printer which means they abide by the highest quality standards for color accuracy and consistency. MagiCling posters are printed with high-definition large format UV printers with vibrant colors and fine details. All Sunrise prints feature outdoor-durable UV-resistant ink that will not fade. These posters are also variable-data personalization compatible and available in popular sizes of 22"x28" and 24"x36" as well as in any custom size up to 30"x120". Sunrise can accommodate any size order from one to thousands of pieces.
About Sunrise Hitek Group, LLC.
Sunrise Hitek https://www.sunrisehitek.com/ is an Inc. 5000 company established in 1988 and employs the most advanced equipment and technology, such as G7-certified HP Indigo and UV flatbed presses, laser engraving, and digital die-cutting, to create best-in-class color printing, short-run packaging, P.O.P. retail displays, and signage products. A privately-owned enterprise, the company is based in Chicago and sells products worldwide.