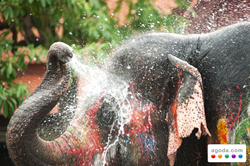 Agoda.com is offering fantastic accommodation deals in three of Thailand's most popular spots for Songkran, the wettest celebration in the world.
Singapore (PRWEB) March 11, 2015
Agoda.com, one of Asia's leading hotel booking sites and part of Nasdaq-listed Priceline Group (Nasdaq:PCLN), has uncovered specials on accommodation in three of Thailand's most popular destinations to celebrate Songkran, the traditional Thai New Year and one of the country's most fun-filled annual events.
The festival today is known around the world for its raucous waterfights that close down major roads and businesses, but its history is somewhat more refined. Songkran has its origins in Southeast Asia's agricultural past, when April marked the end of the dry season. Families gathered together, often at temples, to give thanks for a successful year, pray for a fruitful coming one, and get ready for the upcoming rains.
It was also a time to wash valued images of Buddha with scented water, which was then poured over the hands of senior members of the family as a blessing. Somehow, over the decades, this ceremony has turned into an event that fills the streets of most major Thai towns and cities. Time spent with family is still an essential part of the event for most Thais, with exciting street parties and over-the-top water fights with thousands of revelers adding a more visible element to the celebration.
Visitors are welcome to join the fun, if they prepare properly: savvy travelers take care to wrap their wallet, phone, and other valuables in a plastic bag, and wear clothing that is comfortable but not too skimpy. Sunglasses are a must, to protect from errant splashes.
This year Agoda.com is offering unbeatable hotel deals in Bangkok, Chiang Mai, and Phuket. To browse a list of participating properties, visit the special landing page at http://www.Agoda.com/Songkran and get ready to attend one of the world's most vibrant and unique parties!