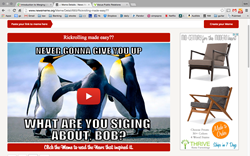 Never gonna give you up. Never gonna let you down.
Peoria Heights, IL (PRWEB) March 16, 2015
Rickrolling has kept Rick Astley relevant for years. Callitics' new venture, News Meme, seeks to make the web hoax even easier to accomplish. A user goes to News Meme, copy and pastes the YouTube URL for Rick Astley's timeless classic, Never Gonna Give You Up.
"We're no strangers to copyright violations. You know the rules and so do I," says Tom Howard, attorney and software developer that comes up with Callitics' software offerings. The company is in a unique position to take advantage in the changing times as opposed to the less fluid copyright laws. "We give people the ability to provide their editorial commentary and satire on internet content. All traffic leads back to the source. It's win-win all the way."
The website not only allows its users to create Rickrolls for their friends, but memes on any internet content. "Memes leading to nowhere is dead," says Howard. "Had the idea while trading options and reading a facebook feed," says Howard. He wanted to create an underlying asset to the memes. The internet is full of content and Calltics' News Meme product was born.
As for the Callitics app, a new update being described as "better" should be released this spring. The delays have been blamed on 'software time.' When pressed for more information, Howard referred the interviewer to "Dreaming in Code."
Callitics is software app development company in Peoria Heights, IL. It's making as much small and fun software that it can. For more information e-mail: howard(at)callitics(dot)org.