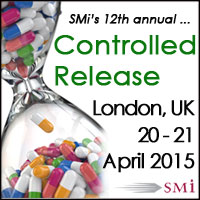 London, UK (PRWEB UK) 12 March 2015
Set to take place on 20th & 21st April in London, Controlled Release 2015 will gather a global audience of leading scientists and specialists in the healthcare industry as they review various platforms to enhance the systemic delivery of drugs. The conference will address topics such as Ocular/Oral drug delivery, overcoming Assessment & formulation challenges, new & novel Drug Delivery technologies and alternative pathways for Controlled Release delivery.
Attendees can expect to hear novel platforms in overcoming the challenges for long term drug delivery, in an exclusive interview with Janssen's Senior Scientific Director, Primary Container & Drug Delivery Systems/PDM, Dr Abla A Creasey. She commented, "The current biggest challenge is the application of innovative new technologies, excipients, materials to short term product development for patients."
The Conference will feature a spotlight Innovation on GlaxoSmithKline's Ocular Drug delivery, attendees will hear Ian Catchpole, Senior Investigator Senior Investigator BioPharm Innovation from GlaxoSmithKline, discuss GSK's success on how they achieved Ocular delivery over a long period of time and how they overcame the challenges of systemic long term delivery in the eye.
Ian Catchpole, commented on this year's programme:
"I believe that the strengths of this year's Controlled Release Conference are that there are a number of speakers from large Pharma, smaller Biotechs and academic environments that are willing to present case studies to share their learnings with the controlled release community. This opens up information and idea exchange at a relatively small meeting where there is the opportunity for attendees and speakers to interact face to face. Ultimately this will help key players in the community to benefit from those experiences and focus on the challenges that controlled release needs to solve for the future."
Keynote speakers will include, GlaxoSmithKline, Novartis, Novo Nordisk A/S, Bial, LundbeckA/S, Boehringer Ingelheim, Ipsen, University of Strathclyde, who will discuss the latest research and development in the controlled release arena.
The packed agenda features over 18 case study driven presentations, round table discussion, plus over 3 hours of networking with industry professionals who are leading the way in controlled release, registered delegated include: Merck, GSK, Bayer, Janssen, Lundbeck, Boehringer Ingelheim, Novartis, Hallidex, University Of Campinas, Italfarmaco Spa, Lucideon, University Of Campinas, Ache, plus many more
For further information or to book a place, visit: http://www.smi-online.co.uk/2015controlledrelease55.asp
12th annual Controlled Release conference
20th & 21st April 2015
Marriott Regents Park Hotel, London, UK
http://www.controlledrelease.co.uk
###
About SMi Group:
Established since 1993, the SMi Group is a global event-production company that specializes in Business-to-Business Conferences, Workshops, Masterclasses and online Communities. We create and deliver events in the Defence, Security, Energy, Utilities, Finance and Pharmaceutical industries. We pride ourselves on having access to the world's most forward thinking opinion leaders and visionaries, allowing us to bring our communities together to Learn, Engage, Share and Network. More information can be found at http://www.smi-online.co.uk