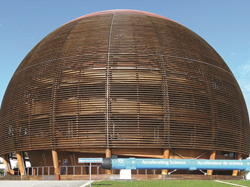 "CERN tour is excellent - the pupils learnt a huge amount about particle physics."
(PRWEB UK) 13 March 2015
With today marking the start of British Science Week, the furore surrounding Ofqual's decision not to assess practical work in the new science GCSE raises many questions about the future of science teaching in UK schools and its effects on the UK science industry. It also raises questions regarding the role of school science trips in secondary education.
Ofqual's decision means that practical work will no longer be tested using controlled assessment, but by written exam questions. The qualifications watchdog insists that practical work will still be essential to the teaching of the subject. However, Secretary of State for Education, Nicky Morgan, has been very vocal in her opposition to these reforms.
Morgan's reservations lie primarily in the concern that removing the practical elements of the GCSE science qualification could undermine their teaching in schools, with teachers instead focusing on the theory. There is concern that this will leave students lacking the basic skills required to continue their studies and, potentially, enter a career in the sciences. At a time when the Department for Education is actively pursuing a campaign to encourage more young people (and, in particular, young women) to study STEM subjects, there is also concern that a lack of practical work will make science a less attractive subject choice.
A school science trip, with the opportunities it offers to get stuck into hands-on activities and experiments, is one key way to make science more attractive to pupils. Halsbury Travel, a leading school tour operator, offers a range of school science trips which provide students with the opportunity to travel to some of the world's greatest science attractions, including the Kennedy Space Center in Orlando and CERN in Geneva:
"Orlando is a superb destination for maths and science trips. Lots to do to keep the students busy. Many pupils have told me that it was a trip of a lifetime."
Hamilton Grammar School, Orlando
"CERN tour is excellent – the pupils learnt a huge amount about particle physics."
Truro High School, Geneva
A school science trip takes science out of the classroom, giving students a real insight into the subject's practical applications and allowing them to gain a greater understanding of the possible career paths that it opens up for them. These are also some of the aims of this year's British Science Week, when, for the first time, the British Science Association (BSA) will be opening the doors of some of Britain's most interesting STEM institutions to the general public and school groups, allowing them to see 'behind the scenes'.
It does appear that all parties agree that students must be exposed to the joys of practical science, both to ensure that they possess the basic skills that they will require should they continue their studies or pursue a career in science, and to encourage a love for the subject. School science trips can be hugely effective in this area thanks to the practical and inspiring experiences they provide.
The measure of the success of these reforms will lie in whether they liberate teachers to provide their students with a wider range of practical work as Ofqual claims, or lead to the downgrading of practical work in science, as Nicky Morgan and the Department for Education fear. Whilst Ofqual cites the support of the vast majority of science teachers involved in the consultation process, the Department for Education, universities and several leading scientific organisations have all expressed concerns.
Should Ofqual press ahead with these reforms, as they have confirmed that they intend to, the role of school science trips in inspiring pupils and providing them with practical experience of the subject could expand significantly. The role of school tour operators, such as Halsbury Travel, will be to ensure that they continue to offer high-quality school science trips which provide students with this practical experience of science that will encourage a love of the subject in future generations.
Halsbury Travel was established in 1986 by Keith Sharkey, a former teacher who passionately believes in the value of educational travel. Having himself benefited from regular trips throughout his school years, Keith went on to lead various trips abroad during his time as a teacher. He witnessed firsthand just how inspiring a school tour can be for students and created Halsbury Travel to help more and more students explore the world.