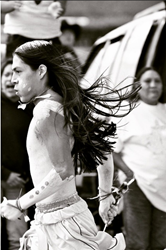 I have been in the business of Native American art throughout my life, growing up in my family's businesses, which included a trading post on the Navajo reservation. My Santa Fe gallery gave me the opportunity to give my collection a home. -Jed Foutz
Santa Fe, NM (PRWEB) March 11, 2015
Shiprock Santa Fe gallery, one of the foremost galleries for Native American textiles, vintage and contemporary jewelry and pottery, will be celebrating its 10th anniversary in 2015. Celebratory exhibitions and events begin April 15 with an exhibition of photographs by New Mexico emerging artist Phillip Vigil, a fourth generation artist. Vigil's work will be on view until May 31.
Monday, June 15 will launch "Native American Imagery in Advertising," featuring posters, kitsch, and works on paper from the early 20th to the mid-20th century. The exhibition will illuminate the iconography of Native American art, which has permeated the American cultural landscape almost as long as the United States has existed. The exhibition will continue through July 31.
The summer's special exhibitions will continue with "Important Early Navajo Silver Bridles," including three originally from the William Randolph Hearst Collection, on view Monday, August 3. The ten bridles include examples created soon after the Navajo transitioned from steel to silversmithing to create tack pieces for their horses. The bridles will be on view until September 30, 2015.
Events include monthly special receptions for a variety of unique occasions:

Thursday, May 21, 2-4 p.m., Shiprock will hold a reception honoring Kiowa artists and sisters Keri Ataumbi and Teri Greeves and exhibit their jewelry. The sisters have been named 2015 Museum of Indian Arts & Culture Living Treasures, and this event is part of the Native Treasures Indian Arts Festival weekend.
Thursday, June 4, 5-7 p.m., Shiprock Santa Fe will hold a champagne reception in honor of the Wheelright Museum's new Center for the Study of Southwestern Jewelry, which opens June 6. The new wing will include the first museum gallery in the country devoted permanently to Navajo and Pueblo jewelry and related traditions, including flatware, hollowware, lapidary, and stone carving. Shiprock's celebration will feature the fashions of Navajo designer Orlando Dugi. Donations to the Wheelright will be encouraged during the event.
Thursday, July 9th, 5-7 p.m., Shiprock will hold a welcome reception for International Folk Art Market artists and attendees as part of a Downtown Folk Art Business Partners initiative. Members of the Partners group will be holding receptions as a benefit for the International Folk Art Alliance to showcase the variety of folk art available in Santa Fe. *(Please note the date for the welcome reception for the International Folk Art Market artists and attendees has changed from Saturday, July 11 to Thursday, July 9th, 5-7 p.m.)
Thursday, August 20, 2-4 p.m., for the 2015 Indian Market, Shiprock Santa Fe will celebrate Hopi fine jeweler Sonwai (Verma Nequatewa) with an opening reception. Sonwai, the niece of famed Hopi jeweler Charles Loloma, has followed in his footsteps as a master of stone inlay, using semiprecious stones, gold and silver.
All events are open to the public.
"Ten years ago I found the perfect home for Shiprock Santa Fe gallery in the historic Silver building, a 19th century building with wonderful, airy gallery space above the Plaza in Santa Fe, New Mexico," said Jed Foutz, a fifth generation trader and owner of Shiprock Santa Fe. "I have been in the business of Native American art throughout my life, growing up in my family's businesses, which included a trading post on the Navajo reservation. My Santa Fe gallery gave me the opportunity to give my collection a home and offer the services and knowledge to help customers understand the beauty and value of Native American fine art."
Foutz's interests, and the Shiprock Santa Fe collection, are not only in the fine workmanship, iconography and aesthetics of Native American art; the gallery also houses Mid-Century Modern furniture and the clothing designs of Japanese designer visvim. A common thread through these perhaps surprising groupings is clean design, natural materials, and a high degree of craftsmanship.
The focus on handwork is reflected in the customer service approach of the gallery, which emphasizes personal service and attention. Given a specific budget or a desire for a particular type of object, the gallery staff will select and present items which meet the need. Regulars may take an item home to consider if it is "right" for their purpose.
For press inquiries or an interview, contact:
Suzanne O'Leary
JLH Media
505 490 9116
suzanne(at)jlhmedia(dot)com
Shiprock Santa Fe gallery, based in Santa Fe, N.M., is one of the foremost galleries in the United States for Native American art, including vintage and contemporary jewelry, historic textiles, pottery, basketry and artifacts. Celebrating its 10th year on Santa Fe's historic Plaza, the gallery was founded by fifth generation expert Jed Foutz, who was raised on the Navajo Reservation in a family of traders. Foutz has a studied eye and impeccable aesthetic he uses to select the best Native American work, antique and contemporary, making him an important style resource for top fashion houses, designers, filmmakers, and renowned art collectors. Foutz has expanded his family tradition by incorporating Mid-Century Modern furniture in his collection, which, with its fine design, materials and craftsmanship, complements and highlights the beauty and execution of works by known and unknown Native American artists. Foutz's mastery of Santa Fe and Southwestern styles has made Shiprock Santa Fe gallery a necessary stop on any trip to Santa Fe. The gallery's knowledgeable staff is well versed in Native American fine art and provide both acquisition and appraisal services, working with clients looking to acquire a single object or to build corporate or personal collections. For more information, please visit https://www.shiprocksantafe.com/.